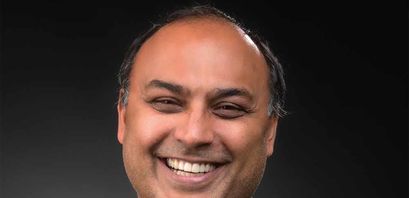 Capital One Ventures offers tips on how to stand out
As the Fintech industry continues to grow, an increasing amount of established banks and financial companies are searching for new and innovative technology targets for acquisition and/or investment.
"With each passing year we are seeing an increasing amount of interest from the banking and investment industry," Says CEO of Coastal Shows, Andrea Downs who produces the popular FinTech Global Expo conference series. "With each event we are seeing a rise in the number of VC firms, analysts and bankers attending our show."
Jaidev Shergill knows what it feels like to go through the acquisition process from both sides of the process. Two years ago he sold his company to Capital One. Now he works with Capital One Ventures, which takes minority equity interests in strategically important startups. They also acquire startups and incubate new businesses.
Mr. Shergill is a featured speaker at the 2015 Fintech Global Expo, taking place on May 28 and 29 in San Diego. He will provide an overview of what companies like Capital One Ventures are looking for when evaluating companies for investment and will give tips on how to standout.
In 2009, Mr. Shergill founded Bundle.com, a consumer facing web and mobile application that rated small businesses based on consumer spending behavior at their locations. They structured and analyzed spending transaction data to rate more than five million businesses across 100 categories.
During that time Mr. Shergill said Bundle had many conversations with banks about scalability and data management. That led to internal conversations at Bundle about partnering more directly with banks. That in turn led to direct conversations with banks and Bundle's eventual acquisition by Capital One.
In his role at Capital One Ventures, Mr. Shergill is excited about a fintech industry that is growing rapidly. Information technology and security are but two areas which are ripe for innovation he believes.
Mr. Shergill begins his search for companies with the belief Capital One Ventures can bring strategic value to the relationship, so he is a partner, not a vendor.
"We fundamentally believe in how we build bridges with startups in the valley and beyond."
Perhaps the key idea is how interesting of an idea the startup is working on, Mr. Shergill believes. "Interesting" can be identified at any stage, so Capital One ventures work both with early- and later-stage companies.
He confessed he does love fintech "across the spectrum." SMB payments, lending, and especially big data security are developing technologies that are taking unprecedented leaps ahead.
Mr. Shergill said he pays particular attention to a company's culture, as cultural synergy is a great contributor to a successful partnership.
Both sides also benefit from the vast human resources available at a company like Capital One, Mr. Shergill said. So when they are advising a startup in a particular field, Mr. Shergill, and his team can access Capital One personnel with expertise in a particular field the startup may be struggling with.
"Pulling in experts from these different areas allows us to look at an issue with a different lens," Mr. Shergill said.
"We believe in the value proposition of our portfolio companies," Mr. Shergill continued."Before we invest in a company we look at the opportunity and say 'what could be?'"
Mr. Shergill believes in companies built to do the right things in their field both at the present and in the future, so he also looks for a proper ethical foundation.
Entrepreneurs also have to display proper maturity, Mr. Shergill said. Too often they want to immediately pursue the big deals before they have the experience and before their corporate infrastructure can handle both the process and, if they land the deal, its aftermath of additional pressure on existing resources.
Many also move forward without a comprehensive grasp on the problem they are trying to solve, Mr. Shergill said.
"Entrepreneurs have to fundamentally understand the problem and be prepared to pivot," Mr. Shergill explained. "Some do not understand the problem enough and overbuild the solution. Some feel they spend too much time and money on the solution to properly pivot."
Editor's note: Mr. Shergill's company Bundle was acquired by Capital One two years ago, not six. The article has been amended.