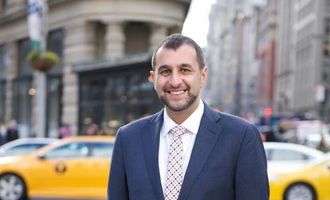 New York-focused CityFunders capitalizes on JOBS Act, smart vision

News Desk
Last updated 12th Apr 2022
The team behind a new real estate crowdfunding site believes their experience in New York and their collective forward-looking vision set them apart from area competitors.
David Behin is the Co-Founder and CEO of CityFunders, a real estate crowdfunding company that focuses specifically on New York City.
"Traditionally, it's (New York City real estate) been a closed club," CityFunders website says.  "To join it, you needed huge financial resources, deep practical know-how, the ability to move quickly and the experience to unlock the value of a property or structure a deal that generates healthy returns."
Mr. Behin said his goal is to make investing in New York real estate open to more people by capitalizing on new federal legislation which allows a platform to work with investors online at a minimum investment of $5,000.
David Behin is the Co-Founder and CEO of CityFunders[/caption]
"For example, we watch the monthly rentals by neighborhood," Mr. Behin explained. "It is like stock trading where you watch minute by minute or week by week for any uptick."
And because they know the neighborhoods, they would know a downtick in Crown heights rentals is because 127 apartments were previously released into the market, for example.
Mr. Behin said CityFunders offers an additional safeguard to assure investors that their money is in a solid property.
"We wanted another pair of eyes, so we established an independent committee of local New York City real estate experts with a combined 200 years of experience in local real estate."
"They include developers, bankers, and representatives of private equity shops with a tremendous wealth of experience. They found a few mistakes in deals."
Mr. Behin said the committee idea came from Mr. Kapahi, who saw them employed when dealing with mortgage banks.
"To a certain extent it hurts us because we may love a deal the group does not," Mr. Behin admitted. "But at the end of the day it makes us a strong company."
Mr. Behin said CityFunders has a $40 million line of credit which allows them to vet a deal, take it to their committee, and close it before taking it to the crowd.
He also pays close attention to the leverage ratio. CityFunders won't  touch a property with a 95 percent loan-to-value ratio (LTV), but in some neighborhoods a property with an LTV of 75 may still be a profitable opportunity.
Mr. Behin said the period following the recession was one of uncertainty for New York City real estate. The city was hit hard and people expected prices to crater, but instead they are between $500 and $600 per square foot, he stated.
He said the recovery began in the summer of 2010 when rentals began to increase. For two years, people were simply not moving. Many had lost their jobs and few new ones were to be had. People who normally got their first studio apartment stayed with their parents. Young couples wanting to start a family chose to live small for a few more years. The shortage of movement reverberated through the entire market, he said.
Investment sales began to rise in 2011, and since then the market has been on a tear, Mr. Behin said.
"By all metrics, the market is firing on all cylinders," Mr. Behin said. "There is a tremendous demand to create new office space. Any new units are snapped up very quickly."
Jobs are being created, and people are coming to the city to fill them, Mr. Behin explained. New York City has already met its 2020 census population forecast, and should hit the 2030 rate by 2020.
The new arrivals are having a hard time finding affordable housing, Mr. Behin said, while noting the issue is especially acute for the middle and lower middle classes.
While changes in legislation and market factors have resulted in a new way to bring new investor pools into real estate, Mr. Behin said anyone wanted to succeed in the space should remember some old maxims still apply.
"Anyone who'll be successful in crowdfunding should remember it's not new, its syndication. You're just changing it from five, 10, or 20 people you know to a broader network."
"The key is to have experience. Every investment has risk, so as stewards we need to make sure all areas of the deal have experience."
For Mr. Behin, it all comes down to integrity.