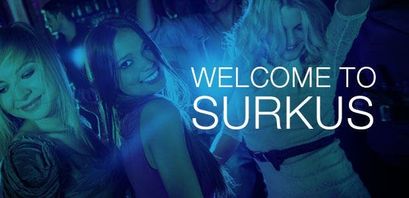 Surkus draws on StartEngine mentorship to reach potential

News Desk
Last updated 5th Aug 2022
[caption id="attachment_21959" align="alignleft" width="217"]
Surkus works by casting data points of event goers who sign up for the app through their social media footprint and inviting them to events similar to their stated preferences.
"When people post their likes on Facebook, they are sharing their personality," Mr. Menendez explained. "We can take that information and honestly deliver the ideal crowd for a brand, venue or event."
There are many possibilities for such a service, Mr. Menendez said. A clothing brand opening up a flagship store on Manhattan wants to create buzz for their grand opening. A movie shoot needs certain extras for a crowd scene.
"Say a new sushi restaurant opens in Tribeca," Mr. Menendez said. "They want to reach people in Tribeca who like sushi."
Mr. Menendez said Surkus will search social media traffic and review sites for people who indicate they like sushi and who live in or near Tribeca. Perhaps they posted a "like" of another sushi restaurant nearby.
Imagine a new nightclub is opening and wants to generate early momentum by drawing fans of the music genre or ones who like the atmosphere they wish to create. They identify and invite people who, by previously identified online preferences, are most likely to enjoy the venue.
Surkus can establish a geofence around the venue so they know which app users show up and how long they stay. They can then reward those people with a credit, free drink or appetizer that can either be paid out during or after the event.
In a sense, StartEngine was involved with Surkus in the app's early stages, Mr. Menendez said. StartEngine's Howard Marks served as a mentor during this time. Mr. Marks co-founded ATVI and other successful games companies.
"As we grew organically, Howard was very helpful," Mr. Menendez said.
One of the many benefits StartEngine brings is the ability to open doors, Mr. Menendez said. The ability to raise capital is very important too, but as an investment banker he had an idea of how to do that.
"Raising money is one thing," Mr. Menendez said. "Opening doors is another."
StartEngine was invaluable in Surkus' development, Mr. Menendez said. Mr. Marks immediately saw applications in music film and other sectors.
The availability of big data and our growing ability to interpret it could prove big to Surkus' future, Mr. Menendez believes.
"What is we can see patterns in what people are going to do?" he asked. "Someone gets a promotion and talks about buying a different car. Lexus knows that many people who fit this profile consider a Lexus. They can invite him for a test drive."
Surkus can also gain very deep insight from metadata, Mr. Menendez said. They can cross reference check-ins with locations and previous likes to suggest restaurants, shops or other interesting sites nearby.
Say a healthcare company has developed a new device to help people in cardiac distress, Mr. Menendez said.  They want to promote it specifically to cardiac nurses. They can send an invite to an event or appear at a convention and when they know 30 cardiac nurses are in the room they can make sure there is staff at the booth.
"It is better-targeted advertising and is much more cost effective," Mr. Menendez stated.
"There is a lot of power in not having to pull when you just have to nudge."
StartEngine's Ron Miller said StartEngine began in 2011 and is now the largest tech media accelerator in Los Angeles, having worked with 60 companies in a three-year period.
Then came the JOBS Act.
"It effectively allows entrepreneurs to raise capital from both accredited and unaccredited investors," Mr. Miller said. "It is the most significant development for entrepreneurship in a generation."
Capital formation is the biggest issue holding innovators back from the marketplace, Mr. Miller explained.
"Now you can take a concept to the crowd and say, 'Hey I have this idea,' and ask people to put their money where their mouths are."
When people are asked to commit the money it is the ultimate validation and proof of concept, he added.
"We saw this (the JOBS Act) and said we want hundreds and thousands of entrepreneurs achieve their dreams," Mr. Miller said. "That is our mission."
StartEngine aims to fill a pretty big gap, Mr. Miller said, because what people may think, Silicon Valley is not an endless money supply.
"There is this perception that Silicon Valley is wildly funding everything when nothing can be further from the truth. There may be $30 billion each year in total VC funding and at most two or three big deals."
While there may be a couple of thousand of deals earning venture capital each year, Kickstarter on its own may fund 20,000 concepts, Mr. Miller explained.
Apply that scale to equity crowdfunding and you have something.
Ironically it was one fate of one of the most successful Kickstarter projects that proved equity crowdfunding is a better bet, Mr. Miller said.
"The greatest advantage we could think of is what happened to Oculus Rift. All the early supporters took the risk and got nothing for it."
"With equity-based crowdfunding our investors participate in the upside."
While the idea of helping entrepreneurs with capital formation was important enough, Mr. Miller said he was also excited about the democratization of the opportunity to invest in the next big thing.
"Historically, only the well connected got these opportunities," Mr. Miller said. "At StartEngine we are democratizing access to growth opportunities for everyone.
Mr. Miller said Surkus came to StartEngine with an initial concept that worked. They wanted to expand in both geographic diversity and depth but they needed capital to reach those goals.
"Essentially a digital marketplace opportunity to raise capital from the crowd was their most effective path to growth," he said.
"A crowd-casting app is now open to customers, meaning the cast can participate."
Something else powerful is happening with Surkus, Mr. Miller believes. By allowing affinity groups to participate as investors, they become brand ambassadors committed to the company's long-term success.
If each investor has 1,200 social media contacts, and Surkus notifies them of a new event, it is a tremendous opportunity to expand their reach. While traditional media advertising takes a considerably more blanket approach, getting an event recommendation from a friend is much more credible.
Mr. Miller likened Surkus in that respect to fellow StartEngine company XREAL, which develops mobile gaming apps.
"XREAL is a good example of that because once word got out, the tight-knit gaming community shared it on a relatively quick basis."
Mr. Miller said one of the reasons StartEngine can help entrepreneurs is because they are entrepreneurs too.
"We are entrepreneurs who work with entrepreneurs and we approach the world as entrepreneurs," he explained. "We see obstacles and we figure out how to solve them. That is what entrepreneurs do."
The quality of StartEngine's leadership provides credibility as entrepreneurs seek to scale their operations, Mr. Miller said. He is a four-time Inc 500 winner while Mr. Marks was involved with Activision and sold Acclaim Games to Disney.
Mr. Miller concurred with Mr. Menendez on the important relationships StartEngine can help facilitate between entrepreneurs and people in the industry. Citing the development of the StartEngine platform, he said he consulted with top crowdfunding attorney Douglas Ellenoff on compliance and with FundAmerica on back end architecture.
"An entrepreneurs doesn't want to be involved with some issues (like escrow)," Mr. Miller said. "They're not thinking about that."
"Their primary concern is building a company. We understand that and have built a turnkey solution that is high quality compliant."
One of StartEngine's most successful companies is Elio Motors, makers of an environmentally friendly and affordable car.
Venture capitalists are only interested in technology and showed no interest in the concept, Mr. Miller said. Investment banks would not touch it, and even Kickstarter turned them down.
"Elio had nowhere to go until Regulation A+," Mr. Miller said. "With $17 million in reservations from 4,300 investors, it is the most successful crowdfunding campaign of any kind in history."
"And that's in 16 days."