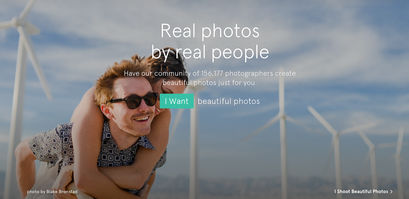 Snapwire testing Reg A+ waters

News Desk
Last updated 29th Jun 2022
Media needing images tell the Snapwire community, now more than 150,000 strong across 200 countries, what they want, and interested photographers get to work. The photographs are submitted and the company chooses which one they want. Should no one image exactly capture the company's intent, they can communicate with photographers to pinpoint their exact needs.
"This results in less compromise," Mr. Newell explained. "It allows creatives to collaborate with users to see if they can develop a productive relationship."
Anyone who has ever used a stock photography site knows it is not usually a direct process of typing in "sunset" and getting the ideal shot for your article or campaign.
It is more like watching little Billy from the Family Circus go to the store for a jug of milk. He goes here, he goes there. Up a tree. Through a puddle. Still has not reached the store. Down a slide, stop for ice cream. Two hours later he comes home, maybe with milk, maybe not.
Use Snapwire, and you get your milk every time, just the way you want it.
By approaching an affinity group of photographers who understand a) the art, b) the benefit of a large audience and c) how Snapwire streamlines the process makes the investor pitch a much simpler process, Mr. Newell said.
"You are in the VC room and you explain the business model. Not everyone will understand. It does not always sink in."
"Our investors get the pain point."
Thanks to Instagram, Mr. Newell said, new photographers fall in love with the art.
"Half of our content comes from mobile devices."
Over time they invest in more equipment and explore their talent. Snapwire aims to help them maximize that talent.
Snapwire also aims to provide increased control to both sides of the transaction, Mr. Newell explained. The buyer gets exactly what they want while the photographer can choose which assignments they accept.
Snapwire also provides an opt-in curation service, Mr. Newell said. The best photographs are included in a library that buyers can search and purchase from. As more buyers select their images, photographers progress through levels which enable them to charge more for their work.
Mr. Newell is understandably a proponent of the Regulation A+ process but cautions entrepreneurs to carefully consider the timing of their ask.
"It comes with special filing costs that can make it an expensive process. Be calculating and strategic when you do it while considering your current financial needs."
The overall process was less painstaking than traditional funding routes and came with more tangibles benefits, Mr. Newell said.
"It makes financing fun, and not something you regret doing. The engagement loop provided us with validation we were doing the right thing."
"The support we've seen blows us away."