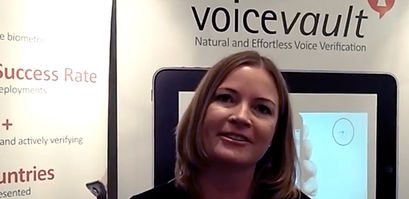 Fin-tech must match security, ease-of-use with innovation
LAS VEGAS, Nv. – When looking to disrupt practices that have been in place for decades, innovators have to grapple with many issues.
Is the value provided worth the customer's effort to change an ingrained habit?
Is it secure?
Is it convenient?
When the topic is the voice e-signature technology they developed together, VoiceVault and Enacomm believe the answer to each of those questions is a resounding "yes."
VoiceVault provides voice biometrics and identity verification solutions to the financial services, healthcare, and additional sectors. Their services are used in 40 countries.
Enacomm develops interactive and intelligent customer self-service and assisted-service solutions to companies in the same sectors served by VoiceVault, with a focus on interactive voice response (IVR) technology. They process more than 1,000,000 calls, e-mails, texts, and automated transactions every day.
As seen at Money 20/20
I spoke with VoiceVault Vice President of Sales and Marketing Julia Webb and Enacomm's Vice President of Business Development Mike Kirk at the recent Money20/20 conference in Las Vegas, where they debuted a solution they developed for a major financial industry client enabling identity verification via a phone or smart device for storing customer signatures.
Ms. Webb said voice biometrics is the solution to many costly problems plaguing many different industries. A person sees an ad for insurance and calls a toll-free number. For decades, the response was to send them the paperwork, with a big reason being so they can obtain the client's signature.
Whenever you add needless steps to a process, there is a drop-off rate, Ms. Webb explained. If they involve matters personal or financial in nature, there are document security concerns.
What the two companies have created is a process which captures clients at the moment they are ready to sign, not unlike many other industries with efficient call center processes.
Ms. Webb explained the process.
"Someone calls the insurance company ready to sign. That company conferences in the voice signature service built by Enacomm. The call is recorded and the terms and conditions are played, which the person accepts."
"The IVR prompts the person to say four digits and that becomes their biometric profile. Their voice signature is then complete."
"Password resets are a hot topic in voice biometrics. If we can automate voice biometrics in a call center we will see big savings." – VoiceVault's Mike Kirk
The information provided is tied together and encrypted in legally binding signature which is inserted on the application, Ms. Webb said. VoiceVault said the signatures are considered legally binding under the American Bar Association's test for a signature.
One of the challenges the biometrics industry faces is how to make its use as convenient as possible. Ms. Webb said because voice solutions can be delivered via the most common electronics, the cost to deploy is lower than options such as fingerprint authorization which require a certain level of technology that not everyone can afford.
JP Morgan Chase recognized its potential, Ms. Webb said. They have integrated VoiceVault technology into an accessible app.
"Millions of dollars can be released through an app where biometrics is one factor in a multi-factor approach."
The JP Morgan solution faced the added challenge of being equally responsive to customers in more than 40 countries, Ms. Webb added. The VoiceVault solution is the only biometric option that meets that standard.
There are many applications for voice biometrics in an era where everyone is looking to trim unnecessary costs, Mr. Kirk said.
"Password resets are a hot topic in voice biometrics. If we can automate voice biometrics in a call center we will see big savings."
Mr. Kirk explained it is not uncommon for large call centers to receive 250,000 password reset requests each year, volume requiring an additional six or seven staff. As companies require more complex passwords which are harder to remember and which need to be automatically reset more frequently, this number will only rise.
The existing technology enables companies to create a dedicated number with an automated process that can reset those passwords without the need for any staff.
Both Ms. Webb and Mr. Kirk recognized the need to balance a seamless user experience with sufficient security. Voice biometrics often reduce friction by entirely eliminating the need for passwords.
Count VoiceVault as a company which values the crowd's contributions to product development. Ms. Webb said VoiceVault embraces mobile app development by providing a free developer forum with access to APIs and prototypes. The benefits are being seen beyond the financial and health care sectors.
"It is encouraging innovation," Ms. Webb remarked. "We are seeing things outside the traditional use cases. By encouraging access, we are encouraging all sorts of applications."
Distance learning and wearables were two examples Ms. Webb cited.
Mr. Kirk acknowledged questions about fraud are a hot industry topic right now. Knowledge-based authentication systems, which are commonly used, are very susceptible to fraud.
Voice biometrics reduces fraud opportunity because they do not need an intermediate device such as a reader or scanner to complete the action, he added.
Ms. Webb said VoiceVault has invested millions of dollars into fraud prevention. That has resulted in system intelligence that, for example, can distinguish an individual's unique coarticulation between digits when reading a number sequence. That is difficult to reproduce by splicing recordings together, she explained.
The technology can also distinguish between recorded and live audio. Companies wishing to increase security can add a few numbers to the recorded sequence. That one move can exponentially increase the difficulty of forging authentication.
Some companies also choose to use their catchphrase in the authentication process as a marketing ploy.
Ms. Webb added there are no generational differences in acceptance levels of voice biometrics. VoiceVault has employed the technology with a Medicare solution for seven years.
"People appreciate they can take care of everything over the phone."