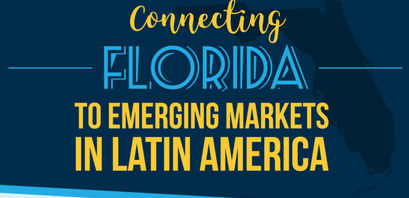 Bridging the gap: Florida's budding relationship with Latin America

News Desk
Last updated 29th Jun 2022
The sunshine state is not just a great place to take a vacation, it's also an excellent base for business.
Florida enjoys an enviable location, which is ideal for connecting the US with Latin America's emerging markets. Growth in the region is significant across the board, and U.S. firms are looking to strengthen bonds and create trade deals by bridging the geographical gap.
As the infographic shows, there has been significant growth in the aviation, healthcare and communications industries and demand for trade is on the up.
Markets in Mexico and Brazil are particularly buoyant. The demand for trade with Miami is increasing by over 10 percent per year, and Mexico and Brazil represent between 70 and 80 percent of this demand.
Currently, mobile phone subscriptions stand at 810 per 1,000 people, but this figure is expected to rise to 1,100 per 1,000 people by 2020.
Demand for air travel is also rising, and it is estimated that Latin America will require more than 2,000 new passenger planes in the next 20 years. The healthcare industry is also booming, with exports increasing by more than 7 per cent per year and pharmaceuticals growing by 20 percent.
Critically for U.S. companies, the number of people able to afford private medical treatment has also increased by 73 million in the last decade.
Florida boasts the USA's largest cargo airport and its location makes it an ideal trade hub. Miami is also home to more than 1.3 million Latin Americans, which equates to more than 50 percent of the population.
In 2014, more than a third of US exports to Latin America passed through Florida, and this figure is expected to increase significantly in years to come.