As we become more accustomed to virtual assistants like Amazon Echo and Google Home, we are going to expect the same level of convenience and service in other areas where we have to communicate our needs, areas like the painful experience of dealing with call centers.
CallVU's Conversational IVR makes the call center experience much more efficient and productive, vice president of marketing Yoel Knoll said. Using artificial intelligence, Conversational IVR lets callers use natural language to immediately access the service they need, without having to navigate long menus.
[caption id="attachment_81107" align="alignleft" width="275"]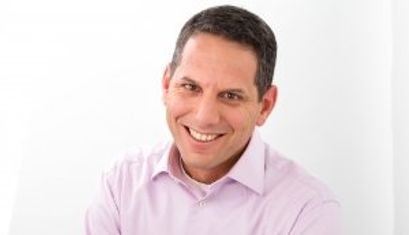 Yoel Knoll[/caption]
Credit Mr. Knoll for coming up with the perfect pop culture analogy to describe how Conversational IVR simplifies the call center experience. Fans will remember the classic Seinfeld episode where Kramer's telephone number closely resembles one providing movie start times. After several wrong numbers Kramer assumes the role of Mr. Moviefone and provides the times himself. At one point he gets flustered and asks a caller to tell him the name of the movie they'd like to see.
The old call center experience was like the first calls to Kramer's movie phone. "Press one" for this and "press two" for that. Conversational IVR eliminates that by letting customers immediately tell the system what they need.
"In the old system you had to follow somebody else's logic who created the menus for you," Mr. Knoll explained. "If you lost your credit card, for example, you'd have to call, click options, then click credit card. It might take 30 to 120 seconds.
"Why do we need that? Let's make it a flat experience."
Customers contacting a call center equipped with Conversational IVR get a welcoming message asking them what they want to do and the process then quickly unfolds, Mr. Knoll said. The caller can give a different order each time, but the natural language processing (NLP) capability allows the system to comprehend normal speech patterns, meaning the caller does not have to change normal behavior.
https://www.youtube.com/watch?v=ijEROx_QcX8&feature=youtu.be
CallVU's technology provides a highly visual experience that complements Conversational IVR, Mr. Knoll explained. They call into their service provider with a request and are directed to their screen via SMS or push notification. As the conversation proceeds, the system provides visual depictions such as data plan options on the caller's touch screen.
Conversational IVR is always ready to talk, Mr. Knoll added.
"The machine is always on, it's never on strike. Call centers don't work at 1:00 a.m. but the machine does."
The consumer marketplace is helping smooth the transition for corporate solutions like Conversational IVR, Mr. Knoll said. By 2020 an estimated 70 per cent of households will have a digital assistant. According to Gartner, one in four corporate customer service and support operations will integrate virtual customer assistant technology by the same date.
"When people use these systems, they get used to digital assistants and expect the same service wherever they go," Mr. Knoll said.
Financial services are at the forefront of technology because they have a clear need, a vision, and the money to make that vision a reality, Mr. Knoll said. Once you see them successfully implementing a technology, expect it to soon hit other industries too.
Conversational IVR becomes more responsive as it addresses more requests, Mr. Knoll said. Initially it may be trained to handle 20 or 30 different versions of the same query based on common speech patterns but as new variations on that request are successfully solved, the system is able to recognize a new version.
In the future NLP engines will be able to recognize emotions such as anger and fear, with appropriate responses added.
At every point Conversational IVR improves because all companies are contributing to it, Mr. Knoll said.
"The biggest thing about it is it's a cloud-based solution. We are all teaching the machine. Any learning is a teaching action for the entire user base."
"We believe this is going to be an essential part of any customer service-oriented organization. Anybody who doesn't jump on the bandwagon will probably be out of business."