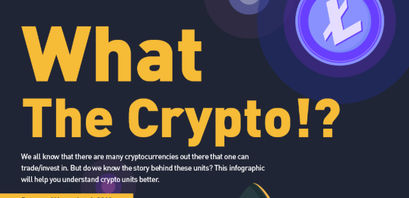 INFOGRAPHIC: Your cheat sheet for understanding bitcoin and blockchain

News Desk
Last updated 5th Aug 2022
Bitcoin and blockchain tech can be extremely interesting topics to learn about. They can also be confusing. After all, there's a lot of information out there about both. Unfortunately, not all that info has been created by those who understand the topic well.
So, you'll be forgiven if you don't understand the basic lingo and exactly how the tech works. While we, as a society, are still getting to grips with the tech as a whole, you won't be the only person who has to sit back and wonder what it's all about.
We decided, as a result, to create a valuable resource for our readers, to allow them to get a firm grounding in the subject. This is why it was serendipitous that the team behind Bitcoinplay compiled the infographic that you'll see underneath.
The infographic goes through all the basics of both Bitcoin and blockchain technology so that you can understand the terms that are being bandied about all over the web. It's not going to make you a Jedi Master when it comes to this topic, but it will be more than enough to get you started.
View it as the place to kick off learning about Bitcoin and blockchain in a simple and easy manner. The infographic won't take more than a few minutes to read through but it will explain to you the basic details that you must know. You can then decide if you want to learn more or just leave it at that.
But that's enough of an introduction for now. Check out the infographic for yourself and don't forget to let us know what you think in the comments below.
Fast forward nine years later, and the crypto market is swarming with all kind of currencies. Some, are, of course, more distinguished than others, as they're used more and are worth more.  Not all cryptos make it through the rough waters of the market, but, those that do make it certainly leave a mark on the world.
If you'd like to know more about some of the most popular cryptocurrencies, cast your eyes on our very own Bitcoinplayinfographic telling the story of the 25 most prominent ones.