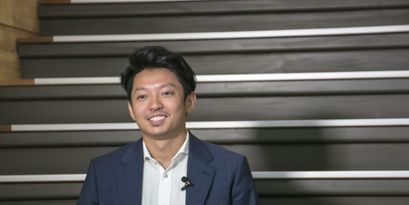 CoolBitX removing obstacles to widespread crypto use

News Desk
Last updated 30th Nov 2022
With the benefit of decades of experience from the family business to tap and a keen eye for technology, Michael Ou believes he has the solution to help take cryptocurrencies mainstream.
Mr. Ou is the CEO of CoolBitX, the blockchain security company behind the credit card-sized CoolWalletS.
Growing up, Mr.Ou had a great introduction to banking and financial security. His family's company SmartDisplayer provides VISA and MasterCard-certified security services to more than 50 banks and institutions across 30 countries, including Apple, UBS and Standard Chartered.
When he was pursuing his MBA in 2013, Mr. Ou first heard about Bitcoin. Excited about it and the underlying technology, he brought it to his discussion group.
"We all reached the same conclusion," he recalled. "Bitcoin and the blockchain technology behind it had the potential to be a valuable, revolutionary technology for industry."
There was a clear need to apply the rigor normally used in protecting established financial institutions to the new cryptocurrency and blockchain sectors, so Mr. Ou got to work. He began by talking to early cryptocurrency participants, some of whom had been hacked. Most assumed their Apple computers were safe, so they stored everything there. Others were willing to sacrifice security for convenience – until they were attacked.
"I learned from the interviews the reason there were so many hacks on exchanges and individuals was the market needed the perfect combination of security and ease of use in a wallet," Mr. Ou said. "Cryptocurrency is becoming a trillion-dollar market and we definitely don't want to build an economy on top of bad infrastructure."
Mr. Ou and his team set out to solve two issues, the fundamental security of Bitcoin in day-to-day use, and AML and compliance issues (more on that below). It was important to have a blend of security and ease of use, and what they developed is unique. The CoolWallet S is a credit card-shaped and sized hardware wallet compatible with both iPhones and Android devices. That was a significant improvement over other wallets of the time which required a USB stick, cable and laptop connection.
"There were many pieces needed to do one transaction," Mr. Ou explained. "It was too difficult. One transaction took five minutes. Now with a mobile device and secure connection it takes 10 seconds. It works with a smartphone, something users carry every day."
The CoolWallet S is also more secure than other hardware wallets, Mr. Ou said. It employs "2+1" authentication where to complete a transaction you need the private keys which are stored within their own secure element, the user's mobile device, and that device's biometric authenticator. Device manufacturers always trying to improve their biometrics and as they do, the CoolWallet S becomes more secure too.
As of 2018's third quarter, the cryptocurrency industry suffered USD $1 billion in losses, according to blockchain security firm CipherTrace. More than 70 percent of that total was pilfered from cryptocurrency exchanges, and 11 of the largest hacks since 2013 occurred in the first half of 2018.
As the cryptocurrency industry grows, more hackers will pay attention and hacks will surely rise, but Mr. Ou said he traces that surge to the cryptocurrency industry's failure to address AML and compliance as well as more traditional institutions.
Mr. Ou sees cryptocurrencies as another financial product which will eventually be adopted by mainstream institutions and exchanges, just as banks have expanded their services from the withdrawals, deposits and loans they began with a century ago.
"Banks do that because users store their assets in banks – it's the first place they want to go to when they want to move funds," Mr. Ou said. "Banks are a gateway platform, introducing users to different financial products."
Governments in theory insure financial products offered by these institutions because they are not easily manipulated so one can protect against loss. Crytptocurrencies are more anonymous and therefore harder to track. Financial institutions see this and are lukewarm to the sector as a result.
The solution to bringing financial institutions to the party is solving AML and compliance concerns. If money is stolen from your bank account and transferred to the thief's, there is a trail which allows governments to act. Because the victim has undergone proper KYC procedures they get their funds returned or replaced.
Tougher to do with cryptocurrency when some stops along the way are anonymous.
CoolBitX is working on a trial program with a Japanese financial institution where they are building a network on top of a cryptocurrency system. The idea is to create a trusted circle where every participant has been thoroughly vetted before being allowed into it. Every identity is clear. That security will attract more to the circle and if all goes well there will eventually be one large, trusted circle.
It's the same process the banks follow, Mr. Ou, said. You apply for a bank card and a few days later it comes in the mail. The system you are now part of essentially serves as your crypto wallet, as during the interim period the bank worked to ensure your identity and place their equivalent of your private keys on the card and in the ATM network.
"The original features of anonymity and permissionless transactions are reasons why early Bitcoin adopters think it's valuable," Mr. Ou said. "However, we think those features are also the obstacles to Bitcoin's mass adoption."