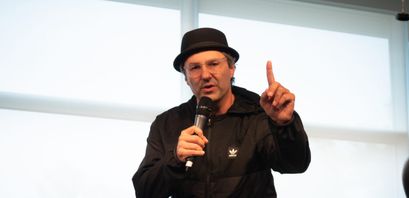 Youth marketing guru Gregg Witt on chatbots and other ways to reach Generation Z

News Desk
Last updated 5th Aug 2022
Chatbots are an increasingly popular method marketers are using to reach Generation Z, the first to have fully grown up in the digital age. With this generation being so comfortable connecting with the world on their mobile devices, they can establish and maintain relationships with brands exclusively through the device.
But brands need to plan out a careful strategy for communication with this tech-savvy demographic, Gregg Witt explained. Mr. Witt is a renowned youth marketing strategist and generational expert, author and public speaker. He is the chief strategy officer at Engage Youth and oversees social media activation for leading companies such as Advocates for Youth, Autodesk Education, Awesomeness TV, Bravo Sports, The College Board, FunnyOrDie, Glaceau Vitamin Water, HBO, Nitro Circus, Nissan, Partnership for Drug-Free Kids, Qualcomm and Walt Disney World. He was named a "Top 5 Youth Marketer to Follow" by Inc. in 2016 is also a Vans World Champion Amateur Skateboarder.
Some of the brands that get the process include Sephora and H&M, who provide fashion and lifestyle tips, and Saban Brands, who own youth oriented entertainment brands like Teenage Mutant Ninja Turtles, where popular features include the opportunities to have "chats" with characters.
Yes they know they aren't talking to Donatello, but if creative thinks they are, the company is missing the point, Mr. Witt said.
"Young people, especially Generation Z, are not thinking they are talking to a character or a celebrity. They are creating value in terms of one-on-one interaction.
"The key is there has to be no friction."
The use of chatbots is exploding, with the number on Facebook climbing from 11,000 to 100,000 in short order, Mr. Witt said. He has a friend operating a chatbot school for brands. It has a one-year waiting list for entry.
For retail brands cart abandonment is the starting point, Mr. Witt said. While targeted email conversions have at best a three percent conversion rate, with bots the success is astronomically higher, he added. Sephora send primers on makeup application and suggests additional products based on earlier buys. 
Many brands also derive value by reaching their customers via the chatbot when they are in the store, Mr. Witt explained. They provide product information and availability along with accessory suggestions. Brands also provide QR codes, yes QR codes, and other links at public events that people can capture with their phones to access behind-the-scenes footage, copies of presentations, and other benefits.
The importance of a coherent chatbot strategy will be made clear as more job advertisements on professional networking and job search sites with such titles as conversational strategist designer appear in the coming months, Mr. Witt said. If you can demonstrate the ability to write chatbot conversation in a collegial tone, you'll be a hot commodity on the job market.
Another coming trend is the use of bots via direct message on Instagram, Mr. Witt said, adding he expects them to be mainstream within months where they can promote specific messages, cross sell and convert the iffy.
Again, just don't slap anything out there and expect success, Mr. Witt advised. Sites have rules and no one likes to be harassed.
"A piece of cautionary advice – remember that you can still be banned for this stuff," he said.
"Are you adding value in a way that automating this type of conversation is going to add value in user experience?" Mr. Witt continued.
Successful brands are incredibly strategic in their conversational design, but most don't see success with chatbots, Mr. Witt said. Seventy percent fail to provide positive results, often because their content flow is too automated and not conversational enough.
The oldest of Generation Z is now in their mid-20s, meaning they will soon be participating in important life stages such as marriage and home ownership. Financial brands cannot treat them like older generations. For starters they expect a quality interaction, and a fast one no matter where they are.
"Young people appreciate getting good answers quick," Mr. Witt said. "Venmo's their bank – PayPal's their bank. They want help getting through the process. They don't crave or want human interaction. They don't go into the branch – what is that?"
Financial brands should look to the most successful retail brands and not retail brands, for that sector has largely come late to the party and is getting killed by Amazon and others employing IBM's Watson.
And expand Generation Z social media strategy well beyond Facebook, Mr. Witt said. They don't often use it beyond maintaining a presence to infrequently communicate with family in a different online persona than they use with friends.
There's an election coming next year, and the winner could be decided by which candidate's chatbot technology is the best, Mr. Witt said. As much as Barack Obama's campaign leveraged social media, you ain't seen nothing yet.
"The battle for the young voter will be won via the chatbot," Mr. Witt said.