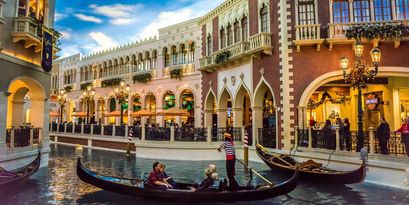 Vegas Blockchain Week agenda announced

Staff Writer
Last updated 30th Nov 2022
EVOLV today announced the second Vegas Blockchain Week, an eight-day blockchain education and adoption-themed week which will run from Oct. 26-Nov. 1.
Vegas Blockchain Week features:
• The Second Annual Litecoin Summit Hosted by Charlie Lee – Oct. 28 – 29
• The World Crypto Poker Tournament (WCPT) – Oct. 29
• The EOS Alliance Annual Summit with Brock Pierce – Oct. 29
• A Crypto IQ Trading Event with Charlie Shrem – DATE TBD
• The Second Annual World Crypto Con – DATE TBD
• WCC DEVCON – Oct. 29 – 31
WCC DEVCON will be hosting the first ever multi blockchain developers conference gathering multiple blockchain associations, including EOS, LiteCoin, Raven and more, all in one place.
"Vegas Blockchain Week offers us a tremendous opportunity to host the first truly 'we first,' inclusive blockchain developers conference," said Eric Spire, CEO of EVOLV. "Until crypto and blockchain reach its potential and mainstream adoption with consumers and businesses alike, the industry should not focus on forcibly competing with one another and fueling acts of 'tribalism,' but rather working together towards the common goal of gaining more mainstream users and changing the way we do business."
"Together, our goal is to educate anyone interested in learning about the blockchain comprehensively. We're not putting one specific system over another as each is important to building the entire community and will contribute to the overall adoption," stated Brock Pierce cofounder and board member of EOS Alliance and chairman of the Board The Bitcoin Foundation.
"The Litecoin Foundation is happy to be a part of such a concerted effort to unite developers in the blockchain," added Mr. Shrem. "It helps to showcase that there is room within the crypto space for projects and currencies to collaborate collectively, and still thrive individually."
Anyone interested in participating in Vegas Blockchain Week 2019 can reach out to vbw@evolv.events.