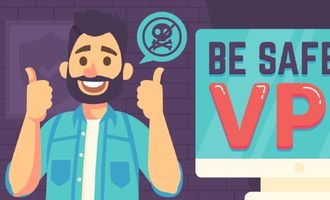 10 Quick Tips To Prevent Online Identity Theft

News Desk
Last updated 12th Apr 2022
Identity theft is one of the major menaces plaguing internet users. The sheer volume of data we share online makes us susceptible to malefactors that are deploying different strategies to steal our identities. Due to the world's growing dependence on internet services, it is imperative that we keep our private information out of reach of scammers.
Here are ten quick ways to protect your identity online.
Protect Your Online Activities With VPN
According to the infographic below, there are plenty of advantages to connecting to the web via virtual private network. Using a VPN service is the safest and easiest way to become anonymous on the web. It also ensures that your sensitive data stays encrypted and invisible to prying eyes.
Be Wary Of Phishing Scams
Occasionally, we receive emails from banks that our passwords have been compromised; these messages often come with a link where we can update our passwords. In most cases, this link will direct you to a phishing website that is a clone of the original website. This is how millions of people fall victim to identity theft. Whenever you get such emails, avoid clicking on the links embedded in the email. Instead go directly to the official website of your bank and verify the authenticity of the information on the email.
Secure Your Phone
Four-digit passwords and swipe patterns are becoming outdated and less secure. Since your phone contains almost everything about you, you should employ more sophisticated identity verification systems like fingerprint scanners and facial recognition. You can combine biometrics with a unique and strong password for additional fortification.
Power Up Your Password
Although the world is leaning towards biometrics, password verification is still prominent. Many service providers still use password protection as the first line of defense. Therefore, it is important that you do not recycle passwords or utilize weak ones. Strengthen your password by adding numbers, symbols, and case-sensitive characters.
Install Protective Software On Your Computer And Mobile Devices
Hackers still use Trojans and other malicious software to steal data. Therefore, you should always have quality and updated versions of antispyware and antivirus software running on your devices.
Avoid Sharing Too Much Information Online
Carelessly sharing your private details online can spell doom to the safety of your identity. if you are not connecting to the internet via VPN, you should cut back on pictures and other sensitive data you share online.
Only Download From Trusted Websites
Downloading free content from unknown websites puts us at risk of installing malware. Make sure that you only download from trusted websites.
Encrypt The Data On Your Computer
Thanks to the latest updates of the modern operating systems, we can encrypt the data on our devices and prevent any unauthorized access.
Do Not Log in to Sensitive Accounts On Public Devices Or Networks
Accessing your sensitive accounts in a café or on a stranger's computer is quite risky. You should carry out all your online banking activities via secure network and personal device.
Only Open Accounts On Trusted Websites
Whether you are applying for a mortgage,  insurance, or a simple subscription to a messaging board, make sure you verify the legitimacy of the site before submitting any data.
Conclusion
Practicing the above-listed tips will help you prevent identity theft. Above all, connecting to the internet via a VPN server remains the ultimate protection against this scourge.
You can learn more on VPN and its privacy features by checking out the infographic below!