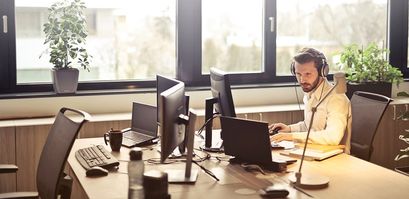 Thinking of outsourcing IT solutions? Here are seven major pitfalls to avoid
Modern business has gone digital on the backdrop of innovative IT solutions. From small startups to the largest brands, growth strategies revolve around cutting-edge technology. Main aspects of businesses such as supply chain, personnel management, communication networks, project management, business continuity, security systems, data solutions to cybersecurity, rely on IT.
Outsourcing to a Toronto managed IT services provider has become the easiest path for most businesses to leverage the latest IT solutions. If you have plans to outsource your company's IT needs, you should be aware of pitfalls that exist when hiring and working with an IT consultant.
This guide explores the importance of outsourcing your IT needs, mistakes most clients make and how to avoid these IT outsourcing mistakes.
Overcoming Challenges in Uptake of IT Solutions
While IT is fundamental for business growth today, many companies aren't harnessing its full capacity.  Small businesses have to invest heavily in IT infrastructure, personnel, hardware, and software. The rapid changes in IT, with trends emerging every day, also cause challenges for small businesses. 
IT trends such as artificial intelligence (AI), migration to the cloud, internet of things (IoT), Robotic Process Automation (RPA), Cybersecurity, and GDPR Compliance require massive capital injection.
Luckily, you can overcome these challenges by outsourcing IT services. Outsourcing your company's IT functions helps control IT costs, reduce labour costs, and increases efficiency and competitiveness. Working with an IT consultancy also helps in the fast adoption of the latest IT innovations. You can also focus on the core business while the IT consultant works on the systems.
More importantly, it helps with compliance and security, which are crucial considerations in the contemporary business landscape. Analysts expect the average cost of data breaches to exceed $150 million by 2020 hence the need to invest in an experienced IT consultancy.
Major Pitfalls When Outsourcing IT Services
Whatever the size of your business or organization, outsourcing your IT needs is one of the smartest moves you could make. It frees resources that can go to other areas of your business operations.
When working with experienced IT consultants such as those from www.onlinecomputers.com, you enjoy peace of mind knowing experts are handling your IT systems.
However, many businesses make mistakes when partnering with IT service providers. Here are some of these common missteps to avoid when outsourcing IT solutions.
Going for the cheapest IT provider
The maxim 'you get what you pay for' applies when it comes to outsourced services.  With more businesses looking for IT services, many providers have emerged some with no background in these services.  Such unscrupulous dupe businesses through enticing packages, and ultimately, they offer poor services or no services at all.
One of the merits of outsourcing is to save money. However, this should not be at the expense of your investment. You have invested heavily both in time and money to get your business. Going for cheap offshore IT solutions might end up ruining all your efforts.
Failing to Identify What You Want
Outsourcing is the new buzz across all industries. Today, you can outsource almost everything, and this is both good and bad for businesses. For a start, many companies have joined the outsourcing wave without any strategy.
This is one of the greatest mistakes you can make when hiring an IT consultant. You need to identify the problems you want the IT service provider to help with. If you wish to boost your team, look for specific IT skills that will help you achieve your business goals. 
Lack of Working Agreement
Outsourcing is not a silver bullet to correct everything that ails your business. You should not assume the incoming IT team knows everything about your business. Instead, take time during the initial engagement to set up a working agreement. This will set the scope of work and set rules of engagement between your team and the IT consultant. 
A lot of friction emerges in outsourced IT services due to a poor working relationship. The terms of engagement must be set from the start to avoid such a situation. With a proper working agreement, the IT solutions provider can achieve more, and the project flows seamlessly.
Failure to Agree on Security Measures
When you have a team working remotely on your IT system, it is advisable to enhance the security measures. Data breaches can lead to business failure, and it is crucial to boost security levels when using outsourced services. Most IT consultants will implement the best security applications to protect both parties.
Using an IT Outsourcing Template
While it is good to observe industry trends and practices, you should not use another organization's approach when outsourcing. Every organization has unique needs, and that's why IT service providers offer tailored solutions.
You should consult your team, identify the proper scope of the partnership, the financial framework of the project, and risk profile for your business, objectives, goals, and culture. Don't become captive to other companies' operational strategies when outsourcing but instead determine what works best for you.
Poor Transitioning Processes
The best outsourcing project starts with a well-planned transition. If this is not in place, things will begin on a chaotic note. This can have an impact on the existing personnel's morale and motivation. A poor transition can also lead to business losses, loss of clients, and other adverse effects.
You need to plan and come up with a comprehensive transition plan. From the knowledge transfer process, service levels, volumes, contracts, and other matters, ensure everything is in place to facilitate a smooth transition.
Lack of Transparency
This can apply to both parties. An IT consultant requires full disclosure, but some businesses hide details to protect their business secrets and intellectual property. This might look like a smart strategy but it sows the seeds of mistrust. What's more, the implementation of the IT solutions won't be effective, leading to a poor relationship between the client and the vendor.
Wrapping Up
Planning to outsource IT functions? This is a smart move that can save your business a lot of money and give you a competitive edge. However, outsourcing IT functions will only work only if you identify your needs and plan the process in detail. You have to bring everyone on board and identify areas where you need help, the technologies you need, a working agreement, expectations to mention a few things. When you have such a plan in place, you'll reap the benefits of outsourcing your company's IT functions.