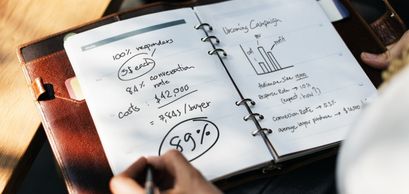 How to write a business plan for 2021

Staff Writer
Last updated 29th Jun 2022
For many business owners, 2020 has been a year of survival rather than one of long-term planning and achieving your business targets. It has been a difficult year for just about every business owner out there, and we have a few more months to endure before 2020 is behind us. However, now is the time to start planning for the future so that your business is prepared for 2021 and beyond. 
Drafting your business plan for next year now is the best way to set your organisation up for success going forward. In fact, drafting your new business plan for 2021 now will inevitably force you to focus on your plans for the rest of 2020, as well as into 2021. Drafting a new business plan, or updating your existing document, will help you to shift your focus from survival mode to achieve your long-term targets. With a new, positive approach and mindset, you can be sure that your business will survive the rest of 2020 and thrive in 2021 and beyond. 
Continue reading to learn how to write a business plan that will benefit your business moving into 2021. 
Begin planning early
The fourth quarter of the year is generally the most common time for most businesses to start drafting the following year's business plan. However, with the year that 2020 has been, it's important to start drafting your new business plan as soon as possible. Starting to prepare your business plan early will help your employees and management team to start thinking more about the long-term goals of the business and less on the short-term challenges that you are facing right now. With a change in mindset, your team will have a more positive outlook over the next few months and will take this new approach into 2021. 
Be realistic
2020 has been a very challenging year for business owners and while you might want to try and motivate your staff with positivity and optimism, it's important to remain realistic. Right now, it is difficult to plan for the future, as everything is so uncertain. Before you start developing your business plan for 2021, be sure to do a thorough SWOT analysis of your company to identify any new opportunities or threats to your business and to see where your business is performing well and where improvements may be required. Being realistic about the current situation will allow you to make the right decisions for your business going forward. 
Conservative goal setting
As a business owner, you want your company to be successful and to achieve as much as possible each year. However, with the coronavirus pandemic still affecting businesses every day, it's important to take a more conservative approach to goal-setting for 2021. Instead of setting unrealistic or unattainable goals for next year, consider including stretch goals in your 2021 business plan to keep your team motivated to perform at their best. 
Pay attention to employee needs
Every business needs its employees to do their best every day to ensure that your business targets are achieved. Now, more than ever before, you need to show your team that they are valued and that they will be looked after going forward. In your new business plan, be sure to account for the physical and mental well-being for your staff and allow for more flexible work conditions where possible. 
Create the perfect business plan for 2021
With 2020 coming to an end, now is the time to start preparing for the future. Use this opportunity to shift the focus in your company from surviving the current situation to preparing to thrive in the New Year and motivate your team going forward. With a new business plan in place, your company can start planning for the future with confidence, no matter what that might entail.