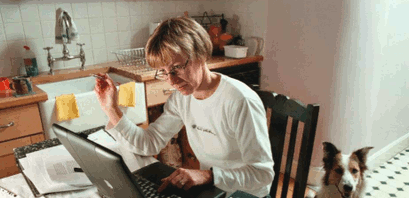 Top Tips for Successfully Working From Home

News Desk
Last updated 24th Jun 2022
Many people are now working from home, and are likely to do so for the foreseeable future. With distractions abounding and a lack of social interaction that can make people feel isolated being experienced by many, we take a look at some top tips for successfully working from home.
1. Positioning your desk near a window 
Having your desk positioned near to a window helps with ventilation and temperature. A flow of fresh air will help to keep your levels of concentration high. Being close to the window also allows you to have a view of the outside world and to reap the benefits of natural light. 
2. Invest in good storage solutions 
Unlike your traditional office, your home office is unlikely to have sufficient storage space for paperwork and your working tools. Adding a filing cabinet to your office will help you to keep your papers in order. Equally, adding some shelves on or above your desk will enable you to keep your frequently used resources close to hand. 
3. Dress for the occasion 
Although spending the day in your PJs may be tempting, dressing as you would for a "normal" work day will help you to feel more focused and professional as you work.
4. Replace your office chair with an ergonomically-designed one 
Your office chair should offer you sufficient back support when you are working, and so a chair designed to support your back and neck are a must to ensure successful working. When you're sitting in your chair for long periods of time it is worth investing in the best you can afford. Good office chairs with a good range of movement will also help you to make the most of it and ensure that it works for you and your working style. A comfy seat with a good amount of padding will also help you to sit in a comfortable position for a prolonged period of time. 
5. Keep your normal routine 
As far as possible, it is a good idea to maintain the routine and habits that you followed when you were working from your "normal" office. Keeping the same routine will help you to make the transition from traditional office working to home office working easier to navigate. 
6. Take breaks 
When you are working with others break times become social occasions and you appreciate the interaction during the working day. Even though your break, like your work, is likely to be experienced alone, it is still important to take regular breaks and to move away from your office when doing so. 
7. Organize your desk 
A cluttered and disorganized desk is one of the most common barriers that home workers find themselves having to overcome. Not being able to find what you need is frustrating and gets in the way of the work you need to do. Many find that when they are working from home on a more permanent basis that they need to invest in a bigger desk that allows them to transfer their office environment into their home. Look for a desk that offers plenty of surface space and also the option to expand storage space with shelves, drawers and desktop boxe and file systems