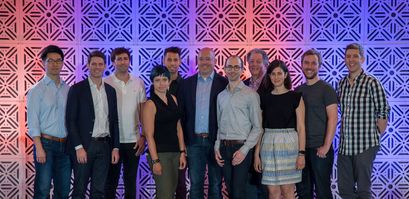 Financial Solutions Lab 2021 Accelerator Cohort Announced

Staff Writer
Last updated 30th Nov 2022
The Financial Solutions Lab, an initiative launched and managed by the Financial Health Network in collaboration with founding partner JPMorgan Chase & Co. and with support from Prudential Financial, today announced it has selected eight organizations for its 2021 Accelerator program. The companies selected for this year's cohort include Daylight, Esusu, Everyday Life, Home Lending Pal, Leap Fund, Lifesaver, Sigo Seguros, and Upsolve.
Now in its seventh year, The accelerator is an eight-month program that invests in a cohort of companies annually who align with a specific financial health focus area and serve populations facing acute and persistent financial health challenges. The 2021 accelerator cohort companies are focused on expanding financial resilience and growth for individuals and communities most impacted by the pandemic. In particular, the fintech offerings from this year's cohort companies will help expand access to, and usage of low-cost or free credit, insurance, digital banking, and asset building solutions that serve low- to moderate-income (LMI) individuals and Black, Latinx, and LGBT-plus communities. 
Each organization in the accelerator cohort will receive $125,000 in capital from the Financial Solutions Lab; access to the Financial Health Network and partnership opportunities that can help innovators increase product reach; one-on-one ongoing mentorship and expertise provided by the Financial Health Network, JPMorgan Chase, and Prudential Financial executives as well as other industry leaders; and peer learning via virtual retreats and working sessions throughout the year.
"The challenges of the pandemic have been distributed unequally – LMI individuals, women, and people of color are coming out of this period in a more financially precarious position than they were a year ago," said Hannah Calhoon, vice president, Innovation, Financial Health Network. "To help them rebuild and further strengthen their financial lives requires solutions that are targeted to their needs and meet them where they are. This year's cohort is made up of organizations that are deeply aware of and committed to the needs of the communities they serve, and we're excited to support them on their journey." 
According to the 2020 Financial Health Pulse, two-thirds of Americans are not financially healthy, and COVID-19 and the economic downturn has exacerbated widening financial health disparities by income, race, and gender. This year's accelerator cohort builds on the program's 2020 focus to improve the financial lives of LMI workers and students who faced financial hardship due to the pandemic. The 2021 cohort was selected for their potential to help individuals better navigate financial instability, build long-term financial security, and access higher quality, more affordable financial services and solutions. 
"The pandemic has exacerbated the growing financial health gap in the U.S. and impacted the resiliency and wellbeing of households across the country," said Sarah Willis Ertur, director of Financial Health at JPMorgan Chase. "To help promote an inclusive and equitable economy, we are committed to continuously supporting innovative solutions that advance the financial health of underserved communities in the ways and with the tools that matter most to them."
According to the JPMorgan Chase Institute, Black and Latinx families have 32 and 47 cents in liquid assets, respectively, for every $1 held by White families. The Financial Solutions Lab believes companies committed to principles of diversity, equity, and inclusion at all levels of their organizations are best equipped to deliver innovative and responsive solutions to vulnerable and underserved populations. The accelerator aims to support founders from underrepresented communities and those building solutions designed for underserved consumers. The solutions provided by this year's cohort companies have the potential to address needs across many historically underserved markets. In particular, the cohort companies were selected for their ability to help navigate systems that can have an impact on financial health, and because they can provide culturally relevant advice and products tailored to Black, Latinx, and LGBT-plus communities. 
"Right now, financial resilience is more critical than ever to help American consumers move past the devastating impacts of the pandemic," said Sarah Keh, vice president, Prudential Inclusive Solutions. "Supporting this cohort of burgeoning fintech companies who have purpose-driven missions will mean more inclusive products targeted towards underserved communities. As we look to solve the financial challenges of our changing world, we're thrilled to support these innovators who are helping to drive economic mobility for the communities most impacted."
The 2021 cohort companies by area of focus are:
Credit:
Insurance:
Digital Banking:
Asset Building:
Now in its seventh year, the Financial Solutions Lab has grown to become one of the top fintech accelerators in the country – and one of the few focused on financial health. Companies selected for FSL programs continue to receive value even after their programs have concluded. Through ongoing engagement, Even, from the 2015 Accelerator cohort, piloted an employer channel offering with FSL that led to its product being deployed to more than 1.4 million employees. Propel, from the 2015 Accelerator cohort, used the deep expertise of the Financial Health Network and JPMorgan Chase to navigate industry pain points and dramatically grow their business to more than five million Americans.