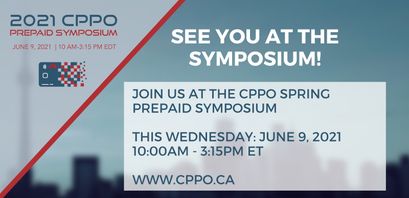 Still Time to Register for the 2021 CPPO Spring Paid Symposium

Staff Writer
Last updated 30th Nov 2022
There is still time left to register for the 2021 CPPO Spring Prepaid Symposium. As a special thank you to all members, partners and colleagues who have supported them over the past year, the CPPO is offering the 2021 CPPO Prepaid Symposium full lineup of virtual content for FREE.
Register for your complimentary access to more than five hours of content and 20 speakers.
Speakers include leaders from: Shakepay, Ceridian, PayPal, Mastercard, KOHO, PC Financial, People's Group, TreviPay, Mogo, The Department of Finance Canada, FINTRAC and more. Plus, you'll get the first look at the 2021 Prepaid Ecosystem Report and heatmap, presented by FinTech Growth Syndicate.  
Hope to see you (virtually) on Wednesday!