As El Salvador prepares to officially adopt cryptocurrency as a legal tender next week on 7th September, the country's Congress has authorized a law to create a $150 million fund to facilitate converting Bitcoin to US dollars.
How did the country get here?
This Central American country is set to become the world's first to use Bitcoin as one of its national currencies. The president, Nayib Bukele, made this official announcement in a broadcast on 5th June 2021 at the Bitcoin 2021 Conference in Miami, Florida.
In subsequent tweets, the president supported this decision by detailing the benefits of this move. According to him, if 1% of bitcoin is invested in El Salvador, this would increase the country's GDP by 25%.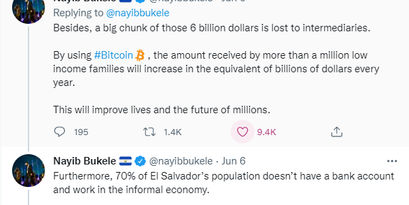 He further added that about 70% of El Salvador's population work in the informal sectors. And don't have a bank account. Therefore, Bitcoin would be well suited for financial inclusion and to grow the country's economy.
So, how will this work?
According to the lawmakers, the cash from this fund will be administered by the state's Development Bank of El Salvador (BANDESAL). This law was approved to allow users to convert Bitcoin to US dollars automatically.
The Bitcoin wallet app will be known as Chivo. The government is also set to install at least 200 ATMs and 50 consulting centers across the country to ease the accessibility. There, El Salvador residents will be able to deposit and withdraw cash without paying any commissions.
Potential problems
While some welcome this move by President Nayib Bukele, not everyone is happy with the cryptocurrency adoption plan. Some of the current concerns include,
Protesters, including workers, pensioners, and veterans, took to the streets to protest the use of cryptocurrency in the country. They expressed concern that their pension will be paid out in bitcoin instead of US dollars. Their major challenge is they don't understand the technology yet.
In a blog post, the IMF also outlined the risks and what could go wrong if a country adopted cryptocurrency as a national currency while the economy is unstable and most of the population is unbanked.
What the Future Looks Like
This bitcoin adoption plan is a gamble by President Nayib Bukele. As the first country to make this decision, it will be interesting to see how they regulate it. With countries such as Cuba announcing the same, which others will follow suit?
Author Bio

Walter Akolo
Walter is a writer from Nairobi, Kenya. He covers the latest news on the cryptocurrency market and blockchain industry. Walter has a decade of experience as a writer.