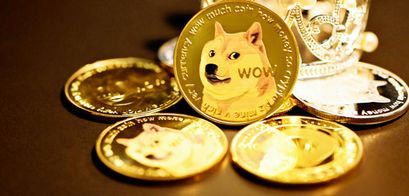 Dogecoin (DOGE) retakes the $0.31 level; Set for further gains

Jinia Shawdagor
Last updated 15th Dec 2022
Dogecoin (DOGE), the eighth-largest cryptocurrency by capitalization, has joined the rest of the crypto market in a fresh rally. This renewed momentum saw the coin breach the $0.31 level yesterday and traded as high as $0.315 before closing the day at $0.3145. Today, the coin continued gaining and peaked at $0.3198 before experiencing a slight downward correction.
At the time of writing, DOGE is changing hands at $0.3075 after a 1.35% gain in 24 hours, according to data from CoinMarketCap. The coin's current level also represents an 11.31% surge over the last seven days. Notably, the coin's performance is not fueled by Elon Musk, whose tweets pumped DOGE, driving it to its all-time high (ATH) on May 8.
While DOGE is currently 58.32% down from its ATH of $0.7376, its community has held on tight.
Taking delight in the support that the DOGE community offers the coin, David Gokhshtein, a renowned crypto influencer, tweeted,
It's funny — if $DOGE goes up a cent, the community just explodes with joy. That's really cool to see.
Gokhshtein also touted DOGE, saying it has a strong use case and a strong community. According to him, these features have seen DOGE do what a cryptocurrency should.
DOGE set to gravitate towards $0.35
Although DOGE has corrected downwards from its daily high, the coin is poised to continue gaining. Per data from Trading View, DOGE's 1-day chart shows that the coin is set to continue surging, with the Moving Averages indicating a strong buying force. In the 1-week chart, the Oscillators are neutral, and the Moving Averages indicate a strong buying force.
According to Scott Melker, who goes under the pseudonym The Wolf of All Streets on Twitter, DOGE might retake the $0.35 level soon. The renowned analyst took to Twitter to share a chart that shows DOGE is forming a Falling Wedge pattern, which in most cases represents a reversal. This pattern also shows that an asset is gearing up to break out on a bull rally.
Although Musk is not behind DOGE's recovery, he is actively participating in helping the ecosystem grow. For instance, he is working with DOGE developers to help boost transaction efficiency. He also highlighted the importance of update 1.14.4, which enables fee reduction.
In a previous tweet, the Tesla CEO said DOGE can be the leading cryptocurrency if it speeds ups block times by a factor of 10, increases block size tenfold, and reduces transaction fees 100X.
If you're interested in investing in DOGE, check out our guide on how to buy Dogecoin online.
Jinia Shawdagor
Jinia is a fintech writer based in Sweden. With years of experience, she has written about cryptocurrency and blockchain for renowned publications such as Cointelegraph, Bitcoinist, Invezz, etc. She loves gardening, traveling, and extracting joy and happiness from the little things in life.