The Solana price has lost momentum. It has declined in the past six straight days as sentiment in the cryptocurrency industry worsens. The SOL token is trading at $161, which is about 25% below its all-time high of $215. It has a market capitalization of more than $47 billion, making it the 7th biggest token in the world.
Solana retreats
Solana is one of the fastest-growing blockchain projects in the world. The network has a platform that allows developers to build applications such as decentralized games, non-fungible tokens (NFT), and decentralized finance (DeFi) platforms.
Developers see Solana as a viable alternative to Ethereum, the second-biggest platform in the world. Besides, Solana is built with speed, scalability, and interoperability in mind. For example, the network has about 400 milliseconds block times and the developers are working to make it even faster. 
At the same time, the average cost of transactions in Solana's ecosystem is about $0.001. This is substantially lower than that of Ethereum and other platforms. 
Solana is also known for its large Sillicon Valley backing. Recently, the developers raised more than $314 million from a group of investors like Polychain Capital and Andreessen Horowitz. Horowitz has funded most of the biggest tech firms you know like Affirm, Accolade, Airbnb, Coinbase, and Transferwise. 
Therefore, it is against this backdrop that the Solana price rallied recently. It moved from $21 in July to more than $215. This happened as investors piled into the so-called Ethereum-killers. Indeed, recent data show that many institutional investors moved to the token. A report by CoinShares said that SOL investment products saw inflows of $49.4 million in the previous week. 
The ongoing weakness is mostly because of profit-taking after the coin experienced a sharp rally. It is also in sync with the performance of other cryptocurrencies like Bitcoin and Ethereum.
Solana price prediction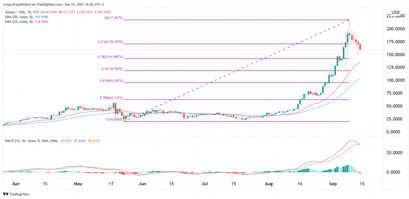 The daily chart shows that the SOL price has been in a strong bullish trend in the past few weeks. However, the coin has lost momentum in the past few days, dropping for the past 6 straight days. Indeed, this is the first time Solana has dropped for six straight days this year. 
Still, despite the weakness, Solana remains slightly above the 25-day and 50-day moving averages while the MACD is above the neutral level. It has also declined below the 23.6% retracement level. Therefore, there is a likelihood that the coin will resume the upward trend in the near term as investors buy the dips. This view will be invalidated if it manages to move below the 50% retracement level at $118.
Author Bio

Crispus Nyaga
Crispus is a financial analyst with over 9 years in the industry. He covers cryptocurrencies, forex, equities, and commodities for some of the leading brands. He is also a passionate trader who operates his family account. Crispus lives in Nairobi with his wife and son.