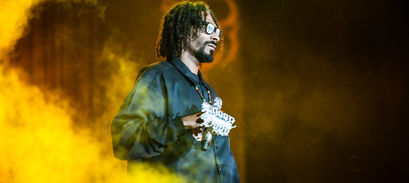 Rapper Snoop Dogg reveals he is the owner of a $17.6M NFT collection

Jinia Shawdagor
Last updated 30th Nov 2022
Renowned American rapper Calvin Cordozar Broadus Jr, commonly known as Snoop Dogg, owns a $17.6-million non-fungible token (NFT) collection. A report unveiled this news earlier today, noting the Hip-hop icon said that he is the person behind pseudonymous NFT collector Cozomo de' Medici. Reportedly, Medici's NFT collection comprises pieces that are in high demand, including CryptoPunks, Meebits, and Art Blocks tokens.
According to the report, Snoop Dogg's CryptoPunks carry the bulk of his portfolio's monetary value and are estimated to be worth $13.19 million. The collection features CryptoPunk #3831, which depicts a green alien wearing shades and sunglasses. This CryptoPunk is worth approximately $5 million.
Revealing he is behind the Cozomo de' Medici account, Snoop Dogg said he is CozomoMedici.
Before this, Cozomo de' Medici tweeted that he would dox from his personal account. He added that the tweet would be easily discoverable, seeing as he is famous. Medici added that those curious to know his identity would soon know it, adding that he would gift 1ETH to a random person that finds and shares the tweet disclosing his true identity.
He added,
"Those who do not care, or simply prefer to not know the source of my vast fame and fortune, may simply not research. I will keep this account focused on NFTs, and not mention this again here."
While the revelation behind Medici's real identity makes Snoop Dogg a big name in the NFT space, it is worth noting that the cannabis-loving artist joined hands with Chris Torres, the artist behind the Nyan Cat meme, to release Nyan Dogg NFTs on April 20 (4/20), a sacred day among cannabis smokers.
More news on the NFT space
Apart from Snoop Dogg revealing that he is Medici, an NFT collector going by Barely Accredited on Twitter disclosed that hackers made away with $294,000 worth of NFTs from their accounts. Additionally, the attackers stole $81,000 in ETH, bringing total losses to $375,000. Per the collector, among the stolen NFTs were from renowned collections, such as Bored Ape Yacht Club, Art Blocks, Meebits, and Pudgy Penguins.
Disclosing how the hackers managed to steal the NFTs and ETH, the collector said they stored private keys and seed phrases in text files on their mac's filesystem. The collector admitted that that was a bad idea, seeing as they did not use a hardware wallet despite dealing with high-value assets.
In what shows that the NFT craze is far from over, Marvion, a blockchain-based metaverse technology firm, has partnered with Phoenix Waters Productions and AMM Global to release a feature-length movie dubbed Lockdown. This launch will initially involve the release of Hybrid NFTs that depict content from the film. The Hybrid NFTs will reportedly enter the market one month before the movie premiers in November.
Moreover, American conspiracy theorist Ron Watkins, who is believed to have supported the QAnon conspiracy theory, has revealed that he intends to sell an NFT collection of his five tweets retweeted by former US President Donald Trump. According to him, the money obtained from the NFT sale will go towards funding a project he believes can save America.
Jinia Shawdagor
Jinia is a fintech writer based in Sweden. With years of experience, she has written about cryptocurrency and blockchain for renowned publications such as Cointelegraph, Bitcoinist, Invezz, etc. She loves gardening, traveling, and extracting joy and happiness from the little things in life.