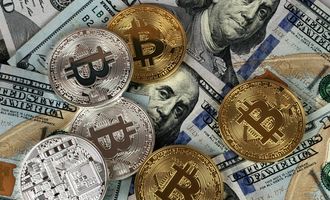 Bitcoin Slips As China Central Bank Promises To Crack Down On Crypto Trading

Ruby Layram
Last updated 12th Apr 2022
Bitcoin fell by almost 5% this morning after China's central bank announced that it will crackdown on cryptocurrency trading. The bank said that it will be banning overseas exchanges from providing services to mainland investors. 
The announcement led the largest cryptocurrency to drop by 4.6% to $42,874, with other coins also tumbling as a result of the fall. Ethereum's coin Ether fell by 8% and Ripple's XRP dropped 7%. 
As part of the crackdown on crypto, the People's Bank of China has also said that it will ban financial institutions, payment companies and internet firms from facilitating cryptocurrency trading. The bank will also begin to strengthen the monitoring of crypto activities. 
Joseph Edwards, head of research at cryptocurrency broker Enigma Securities, said "Crypto markets are in an extremely frail state overall, and these sorts of downswings speak to that; there's a degree of panic in the air." Adding, "Crypto continues to exist in a grey area of legality across the board in China."
This is not the first time that the crypto market has been under pressure this year, U.S listed miners Riot Blockchain (RIOT.O), Marathon Digital (MARA.O) and Bit Digital (BTBT.O) all slipped between 4.1% and 5.1% in premarket trading. Chinese SOS slipped 1.2% and crypto exchange Coinbase Global (COIN.O) dropped by 2.7%.
Earlier in the year, Chinese authorities announced plans to crack down on cryptocurrency mining which sparked a huge sell-off of a number of coins, including Bitcoin. China is the second-largest economy in the world so, decreased activity in the country could have a significant impact on the crypto market. 
Decisions to crackdown on crypto in China come after questions about the risks and regulation of cryptocurrency have been raised. Ten Chinese government agencies, including the central bank and the banking, securities and foreign exchange regulators, made a joint statement announcing that they would "work closely to maintain a high-pressure crackdown on speculative trading of cryptocurrencies."
The People's Bank of China has said that cryptocurrencies must not circulate in markets as traditional currencies and that overseas exchanges can no longer provide their services to mainland investors through the internet. In a statement on their website, The People's Bank of China said, "The government will resolutely clamp down on virtual currency speculation, and related financial activities and misbehaviour in order to safeguard people's properties and maintain economic, financial and social order."

Ruby Layram
Ruby is a writer for Bankless Times, covering the latest news on the cryptocurrency market and blockchain industry. Ruby has been a professional personal finance and investment writer for 2 years and is currently building her own portfolio of altcoins. She is currently studying Psychology at the University of Winchester, specialising in Statistical analysis.