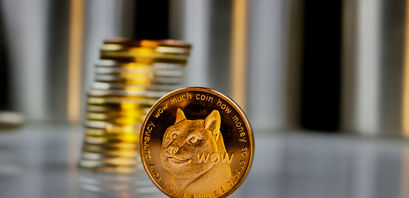 Dogecoin price October prediction: will DOGE fly to the moon?

Crispus Nyaga
Last updated 29th Jun 2022
The Dogecoin price has lost its momentum. DOGE is trading at $0.2100, which is about 40% below the highest level in September. The price is also 71% below its all-time high. This drop has brought its total market capitalization to more than $27 billion, making it the 10th biggest cryptocurrency in the world.
DOGE has lost momentum
There are several reasons why the Dogecoin price has lost momentum in the past few weeks. First, the overall drop is in sync with that of other cryptocurrencies. In the past few weeks, the total market capitalization of all cryptocurrencies tracked by CoinMarketCap has dropped from more than $2.3 trillion to about $1.8 trillion. 
Most altcoins tend to have a close correlation with Bitcoin. This decline happened because of a shift in tone by most central banks in September. The Federal Reserve and the Bank of England (BOE) sounded hawkish in their tones. Similarly, central banks like the Bank of Canada (BOC) and the Reserve Bank of Australia (RBA) have also been relatively hawkish.
1
Minimum Deposit
$200
Exclusive Promotion
More than 3,000 assets, including currencies, stocks, cryptocurrencies, ETFs, indices and commodities
Buy crypto, or trade cryptocurrencies via CFDs
This ad promotes virtual cryptocurrency investing within the EU (by eToro Europe Ltd. and eToro UK Ltd.) & USA (by eToro USA LLC); which is highly volatile, unregulated in most EU countries, no EU protections & not supervised by the EU regulatory framework. Investments are subject to market risk, including the loss of principal.
Additionally, their prices declined because September is historically one of the worst months for the financial market. Indeed, stock indices like the Nasdaq 100 and S&P 500 indices have declined in all September in the past few years. Cryptocurrencies have a close correlation to stocks. 
Further, the fears of regulations from China and the United States made some investors a bit uncomfortable holding cryptocurrencies.
Meanwhile, the hype surrounding Dogecoin and other meme assets has almost disappeared. Indeed, most meme stocks like Blackberry, GameStop, and AMC have crashed by more than 50% from their highest levels this year.
At the same time, Elon Musk, one of Dogecoin's biggest promoters remained silent in September. He did not send any tweet promoting the coin. Historically, the Dogecoin price tends to do well when it is promoted by someone like Musk. 
Dogecoin price prediction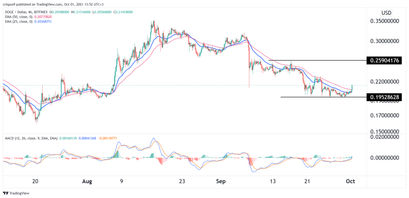 The four-hour chart shows that the DOGE price declined to the important support at $0.1952 in September. This price became an important support level as the price struggled moving below it several times during the month. A quick look at other cryptocurrencies shows that most of them found a similar support in September.
The price is also attempting to rise above the 25-day and 50-day exponential moving averages (EMA) while the MACD indicator is moving above the neutral level. Therefore, there is a likelihood that the Dogecoin price will rebound in October and retest the key resistance at $0.2600, which is about 20% above the current level.

Crispus Nyaga
Crispus is a financial analyst with over 9 years in the industry. He covers cryptocurrencies, forex, equities, and commodities for some of the leading brands. He is also a passionate trader who operates his family account. Crispus lives in Nairobi with his wife and son.