Cryptocurrency company and stablecoin issuer Circle have disclosed that they are under investigation by the U.S. Securities and Exchange Commission. This information was revealed in a recent public filing by the company.
Why was Circle subpoenaed by the SEC? 
According to a regulatory filing from Circle on October 4, the SEC issued an "investigative subpoena" against the company in July.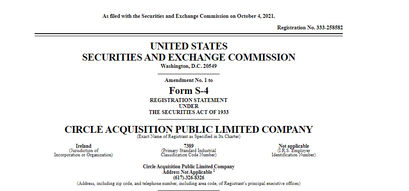 The company had disclosed about the ongoing investigation through a filing in August. This move comes as the SEC continues to tighten regulations against cryptocurrency and stablecoins.  
Together with the publicly-listed crypto exchange, Coinbase, Circle is one of the founding members of the Centre Consortium, an organization behind the world's second-largest stablecoin USD Coin (USDC) with a $32 billion market cap. Just recently, Coinbase was also forced to drop its lending product following threats from the SEC.  
However, this is not the Circle's first run-in with the SEC. In August, the company paid the SEC over $10 million as settlement for having a connection with its one-time subsidiary, Poloniex, which was operating as an unregistered digital asset exchange. 
What next for Circle? 
This filing is part of its plan by the company to go public via a special-purpose acquisition vehicle (SPAC) through a merger with Concord Acquisition Corp. The company is valued at $4.5 billion. 
While the SEC has managed to block out Coinbase from issuing a lending product, it will be interesting to see what happens with Circle's yield product. As a principal developer of stablecoins, the company is under heavy scrutiny from the SEC, which has increased its crackdown on unregulated cryptocurrency trades. 
Unlike their partner Coinbase, Circle claims their yield product is only available for accredited investors. Will this be enough for the SEC, or will the company have to drop it? Only time will tell.  
Author Bio

Walter Akolo
Walter is a writer from Nairobi, Kenya. He covers the latest news on the cryptocurrency market and blockchain industry. Walter has a decade of experience as a writer.