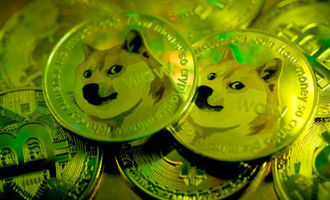 Dogecoin revenue on Robinhood drops from 32% to just 8% of total, falls 7.6% Friday

Daniela Kirova
Last updated 12th Apr 2022
It seems Robinhood investors have fallen out of love with Dogecoin. On Friday, the Menlo Park, California-based broker revealed that its revenues from transactions with Dogecoin accounted for just 8% of its total net revenues of $364.9 million in the third quarter, Fortune.com reported. In comparison, Robinhood collected 32% of its total revenues from Dogecoin transactions in the second quarter of the year.
Regardless, about $30 million is not bad for what is essentially a fledgling asset. Dogecoin was highly significant within Robinhood's cryptocurrency business in the first half of the year, accounting for almost two-thirds of the broker's crypto transaction-based revenues in the second quarter and over a third in the first. It represented about two-thirds of crypto transaction revenues in the third quarter, Robinhood reported on Friday.
Robinhood rolls out crypto wallet
In recent years, crypto exchange has become a very important, if not core component of Robinhood's business. Robinhood offers trading in seven different tokens. In the coming weeks, they will launch a crypto wallet in an effort to give their customers wider access to the crypto markets.
One million people on the waiting list
There is a waiting list for the Robinhood crypto wallet, on which there are more than one million people. The digital wallet will help the broker add new tokens on its trading app, including Shiba Inu coin, which has surged in recent months against the backdrop of great interest from individual investors. It has become the 11th largest crypto by market cap, which totaled $44,266,704,803 at the time of writing.
Almost half a million sign petition to list Shiba Inu on Robinhood
So far, 416,000 people have signed a Change.org petition to get the broker to list the crypto. The goal is to get half a million signatures. However, Robinhood isn't quite there yet according to CEO Vlad Tenev:
We feel very, very good about the coins that we're currently listing on our platform. For any new coins that we add, we want to feel equally good, if not better.  
Cryptos in the green end of week
On Friday, the cryptocurrency market was mostly in the green again, ending the week on an outstanding note. Ethereum gained almost 6% over the last 24 hours, passing $4,400. Dogecoin lost 7.6% due to lack of interest from meme crypto investors.
Daniela Kirova
Daniela is a writer at Bankless Times, covering the latest news on the cryptocurrency market and blockchain industry. She has over 15 years of experience as a writer, having ghostwritten for several online publications in the financial sector.