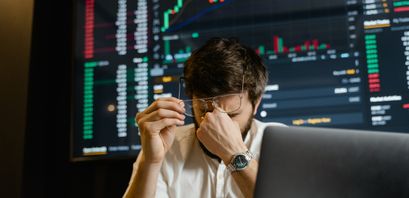 SQUID Crashes Over 100% to $0.0008

Ruby Layram
Last updated 12th Apr 2022
Yesterday, SQUID coin rose by 45,000% to $4.5. However, within the space of just 5 minutes, the price saw a dramatic decline of over 100% to $0.0008. The crash occurred due to a pump and dump scam, in which developers rug pulled the coin. 
Investors have been left with nothing after the developers of the SQUID project sold all of their coins in a flash earlier this morning. This huge sale caused the price of SQUID to plummet, as developers ran off with profits from their sales. 
Following the fall, the project's Twitter and Medium accounts were shut down and developers were reported to have left the project entirely. 
False claims 
The SQUID token was originally created to support a real-life Squid Game tournament. The tournament was meant to follow the structure of Netflix's hit show Squid Game, appealing to a number of fans who wanted to play the games for themselves. 
After a large amount of hype about the project spread across social media, it seems that the virtual Squid Game tournament is no more. Those who invested into the coin had hoped to use their investment to win a much larger prize; however, now they are left with nothing. 
1
Minimum Deposit
$200
Exclusive Promotion
More than 3,000 assets, including currencies, stocks, cryptocurrencies, ETFs, indices and commodities
Buy crypto, or trade cryptocurrencies via CFDs
This ad promotes virtual cryptocurrency investing within the EU (by eToro Europe Ltd. and eToro UK Ltd.) & USA (by eToro USA LLC); which is highly volatile, unregulated in most EU countries, no EU protections & not supervised by the EU regulatory framework. Investments are subject to market risk, including the loss of principal.
What will happen to SQUID now?
This latest scam shows just how risky it can be to invest in an over-hyped cryptocurrency. The developers of SQUID have left the project and investors have been left largely in the dark. 
Early on Monday, Twitter user @_tricck flagged the developers of the SQUID project, claiming that they had rug pulled holders. This claim is supported by data from BscScan, which shows that a web address linked with the rug pull dumped SQUID tokens and cashed out millions of dollars worth of BNB. 
SQUID is not the only token inspired by the Netflix drama. Squid Game Protocol, squidgametoken, and squidanomics all experienced price declines over the last 24 hours following the SQUID coin scam. 
As of now, pump and dump scams are not illegal for cryptocurrencies. This means that those involved with the scam are likely to get away with the fraud, reaping the profits by investing in higher-value coins. 

Ruby Layram
Ruby is a writer for Bankless Times, covering the latest news on the cryptocurrency market and blockchain industry. Ruby has been a professional personal finance and investment writer for 2 years and is currently building her own portfolio of altcoins. She is currently studying Psychology at the University of Winchester, specialising in Statistical analysis.