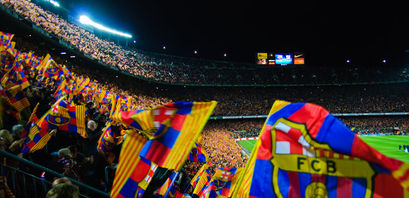 FC Barcelona teams up with Ownix to launch NFTs of historical moments

Jinia Shawdagor
Last updated 24th Jun 2022
Leading Spanish soccer club FC Barcelona has joined the NFT craze after partnering with Ownix, an Ethereum based marketplace. Ownix CEO, Guy Elhanani, disclosed this news earlier today, noting that Barcelona's foray into NFTs seeks to improve the connection to its global audience. Reportedly, this move makes FC Barcelona one of the first premium clubs to showcase its history via NFTs.
According to the announcement, the NFT series will debut on November 24. Commenting on this partnership, Elhanani noted that this collaboration seeks to offer NFT collectors that are Barcelona fans a chance to own a piece of the club's history.
Having existed for 122 years, FC Barcelona has a rich history. According to data from Wikipedia, the club has won 75 trophies domestically and 20 European and worldwide titles, including five UEFA Champions League titles and a record four UEFA Cup Winner's cups.
Touting NFTs, Elhanani said they allow collectors to own items or moments that were impossible to possess. He added that the partnership with Barcelona offers sports enthusiasts a chance to spearhead this new movement.
Elhanani further noted that this development aligns with Ownix's mission to bring customers to purchase NFTs not simply for marketing them further onward but for the pleasure and pride of owning a piece of club history.
1
Minimum Deposit
$200
Exclusive Promotion
More than 3,000 assets, including currencies, stocks, cryptocurrencies, ETFs, indices and commodities
Buy crypto, or trade cryptocurrencies via CFDs
This ad promotes virtual cryptocurrency investing within the EU (by eToro Europe Ltd. and eToro UK Ltd.) & USA (by eToro USA LLC); which is highly volatile, unregulated in most EU countries, no EU protections & not supervised by the EU regulatory framework. Investments are subject to market risk, including the loss of principal.
Exposing NFTs to over 400 million fans
Per Barça's Joan Laporta, the club has a vast fanbase across the globe. He added that the club also leads in the digital frontier with over 400 million followers on social media platforms. Explaining what led the club to ink a partnership with Ownix, Laporta noted that FC Barcelona was searching for ways to connect with its fans.
According to him, creating NFTs proved a viable option because they offer a rare opportunity for growing the Barça brand by introducing unique moments.
Detailing how the NFT Series will drop, Elhanani said,
The first five NFTs will be launched in a minting event, which will take place within the next few weeks in FCB facilities. In the first few weeks after the launch, the platform will offer unique items as NFTs. Further down the line, limited editions and collections will also be put up for auction.
Professional sports leagues continue embracing NFTs
This news comes as the sports world continues warming up to NFTs. Before FC Barcelona, Atletico Madrid, FC Porto, AS Roma, AC Milan, and England's Liverpool embraced NFTs. Spanish league La Liga also dipped its toes in NFTs via a partnership with Sorare. In so doing, it became the first top-tier European league to achieve this milestone.
According to Dapper Labs, the organization behind NBA Top Shot, the NFT boom made professional sports leagues open to the idea of exploring NFTs.
Jinia Shawdagor
Jinia is a fintech writer based in Sweden. With years of experience, she has written about cryptocurrency and blockchain for renowned publications such as Cointelegraph, Bitcoinist, Invezz, etc. She loves gardening, traveling, and extracting joy and happiness from the little things in life.