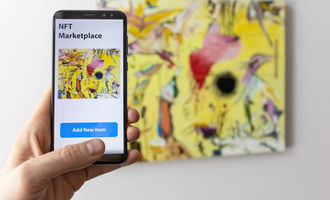 True Global Ventures injects $1.25M in leading NFT marketplace Forza Ikonia

Jinia Shawdagor
Last updated 12th Apr 2022
True Global Ventures' TGV4 Plus Fund has invested $1.25 million in Forza Ikonia, a leading NFT marketplace. A press release disclosed this news, noting that this investment seeks to fund the marketplace's vision to make NFTs mainstream by offering a frictionless experience through the Polygon blockchain.
According to the press release, this financing coincided with the launch of MAUER, an NFT collection that memorializes the Berlin Wall. The series comprises 10,316 NFTs, which represent each day that the Berlin Wall stood until its demolition on November 9, 1989. Forza Ikonia intends to donate 51% of the proceeds from the primary and secondary sales of the NFTs to freedom-oriented charity organizations.
Before this, the marketplace pioneered the concepts of Emotion NFTs, which illustrate the emotional experiences of athletes during memorable moments in their careers. The first collection under this concept was by legendary tennis player Björn Borg. Apart from Borg, Ikonia is gearing up to launch several NFT drops with renowned sports stars.
Other upcoming NFT drops include Esports teams and influencers. With these NFT drops, Ikonia seeks to become the Y combinator of NFTs, dropping at least one new NFT project month.
1
Minimum Deposit
$200
Exclusive Promotion
More than 3,000 assets, including currencies, stocks, cryptocurrencies, ETFs, indices and commodities
Buy crypto, or trade cryptocurrencies via CFDs
This ad promotes virtual cryptocurrency investing within the EU (by eToro Europe Ltd. and eToro UK Ltd.) & USA (by eToro USA LLC); which is highly volatile, unregulated in most EU countries, no EU protections & not supervised by the EU regulatory framework. Investments are subject to market risk, including the loss of principal.
Creating a frictionless NFT experience
With these upcoming NFT releases, Ikonia seeks to create a seamless first buyer experience, which is five times faster than on traditional NFT marketplaces like OpenSea and Rarible. To achieve this, the marketplace is launching a system that supports card payment and automatic wallet creation.
Through this system, Ikonia believes brands, creatives, and stars can launch green, mass-market NFTs quickly and with zero fees. While this is an unconventional method of releasing NFTs, it is worth noting that Ikonia has sold over 10 million NFTs, with sales exceeding $10 billion.
Explaining the success behind its marketplace, Ikonia disclosed that it is underpinned by several factors, including the true digital ownership of sports memorabilia, gaming, and appreciation of art and culture, among others.
Commenting on True Global Ventures' investment, Patrik Arnesson, CEO of Forza Ikonia, said,
With the investment we can further expand our commitment to the NFT art and collectibles market.
Forza Ikonia's Chairman, Mikael Pawlo, added that True Global Ventures is an ideal partner to Forza because it fits into the marketplace's plans to develop a world-class NFT experience.
Dušan Stojanović, the founder and director of True Global Ventures (TGV), said,
We strongly believe in the NFT market and have already many investments in the area. Forza Ikonia's team and background is exactly the kind of drive and opportunity we are looking for.
Jinia Shawdagor
Jinia is a fintech writer based in Sweden. With years of experience, she has written about cryptocurrency and blockchain for renowned publications such as Cointelegraph, Bitcoinist, Invezz, etc. She loves gardening, traveling, and extracting joy and happiness from the little things in life.