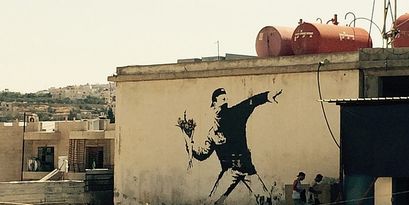 Banksy paintings sell for over $12M in ETH in auction first

Daniela Kirova
Last updated 31st Jan 2023
Two paintings from contemporary artist Banksy sold for the equivalent of $12 million in Ethereum in the first Sotheby's sale of its kind, CoinDesk reported. There has never been an auction denominated in cryptocurrency before.
The sold paintings were "Trolley Hunters" and "Love Is In The Air", which sold for $6,698,400 and $8,077,200 respectively, coming to a total of 3,093 ETH.
Banksy is a pseudonymous England-based street artist, political activist and film director whose real name and identity remain unconfirmed and the subject of speculation.
Auctioneers push for bids in crypto
The push is part of a larger cryptocurrency-focused push from Sotheby's. In October, the famed auction house launched "Sotheby's Metaverse," a virtual gallery. It held its first sale in late October, which featured 53 works from 19 NFT collectors.
Mojito powers Sotheby's new platform. This is a commerce suite for creating NFT marketplaces that offers crypto and fiat payments and the option to mint.
The Metaverse: giving all creators new opportunities
The Metaverse is a combination of AR, VR, and internet services. It has given creators, gamers and artists new opportunities by offering a collective virtual experience.
Biggest auction in history
The crypto community held its breath in anticipation of the outcome of an auction last night: the sale of one of 13 remaining copies of the United States Constitution, which included bidding from ConstitutionDAO, a decentralized autonomous organization. Unfortunately, the group lost to an anonymous buyer, who submitted a $43.17 million.
Still, the group's aim was commendable. It was formed as recently as last Thursday. Their movement attracted almost $4 million in donations. They believed they had a real chance at actually winning the forthcoming auction at Sotheby's.
ConstitutionDAO member Julian Weisser said before the auction:
If we had 90 days, there just wouldn't be this energy and momentum because there wouldn't need to be. And you need those things to make people move – it's intense, but it's necessary.
Despite the loss, ConstitutionDAO's $47 million bid, raised via crowdfunding, is definitely a strong signal for online investment collectives.  
Less than a week after the project was announced, it attracted donations from 2,000 Ethereum addresses, 11,000 social media followers, and a brain trust of tens of developers, investors, and community members.
The next such project will certainly have the infrastructure to make a competitive bid for a cultural artifact of paramount importance.  
Daniela Kirova
Daniela is a writer at Bankless Times, covering the latest news on the cryptocurrency market and blockchain industry. She has over 15 years of experience as a writer, having ghostwritten for several online publications in the financial sector.