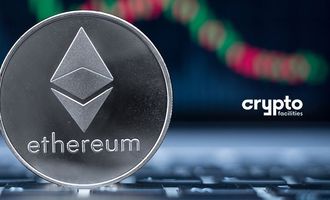 ETH adopters lament about its rising gas fees and other key events in crypto

Jinia Shawdagor
Last updated 24th Jun 2022
Twitter was abuzz with crypto-related discussions in the past week. The first event that set tongues wagging was the rising gas fees in Ethereum (ETH), the second-largest crypto by capitalization. While this has been an ongoing topic, Zhu Su, the CEO of Singapore-based crypto hedge fund Three Arrows Capital weighed in on the matter on Sunday, saying he had abandoned ETH due to high gas fees.
While part of the ETH community on Twitter agreed with Su, others were more critical, saying the Three Arrows Capital CEO's concerns are not genuine. One user pointed out that Su is a market mover and that he is playing a long game, which involves bashing ETH and touting Avalanche (AVAX) to make money from the latter.
Following Su's tweet, AVAX rallied on Sunday to enter the top-10 list of leading cryptos. The coin also set a new ATH at $146.22. However, the token failed to maintain its bullish momentum and is currently changing hands at $135.45. On the other hand, ETH is down 4.33% in the day to trade at $4,173.52.
1
Minimum Deposit
$200
Exclusive Promotion
More than 3,000 assets, including currencies, stocks, cryptocurrencies, ETFs, indices and commodities
Buy crypto, or trade cryptocurrencies via CFDs
This ad promotes virtual cryptocurrency investing within the EU (by eToro Europe Ltd. and eToro UK Ltd.) & USA (by eToro USA LLC); which is highly volatile, unregulated in most EU countries, no EU protections & not supervised by the EU regulatory framework. Investments are subject to market risk, including the loss of principal.
ConstitutionDAO loses the bidding war on the US constitution
Moving on to an ETH-related development, the ConstitutionDAO lost the bid for a rare first-edition copy of the US constitution. The DAO raised over $40 million to purchase the constitution. However, Citadel CEO Ken Griffin outbid the DAO.
ConstitutionDAO shared the news of its defeat through a tweet on November 19, noting that although it did not win the bid, it made history on multiple verticals, including the fact that Sotheby's has never worked with a DAO. In the post, the DAO disclosed that it had 17,437 donors who donated an average of $206.26.
With the DAO facing the enormous task of refunding all the funds, a Twitter conversation ensued on how it would reimburse donors for the gas fees they paid while donating the funds. Richard Chen, a general partner at crypto investment firm 1confirmation, revealed that ConstitutionDAO members spent 199.8 ETH ($860,000) in gas fees.
Reportedly, the DAO is discussing several refund options, including using a layer 2 (L2) solution. However, this would prove a complex process because most of the donors were crypto newbies.
Lil Baby Ape Club NFT collection spurs outrage
Lil Baby Ape Club, a new sold-out NFT collection inspired but not related to the Bored Ape Yacht Club project, provoked outrage after some NFT enthusiasts flagged some pieces as being racists.
Ben Mayor White, a Bored Ape Yacht Club NFT owner, cast attention on the project after uploading a screenshot of an avatar in the Lil Baby Ape Club collection. He described the avatar as having a skinhead trait, German flag suspenders, and donning a T-shirt written Monkey Pride. According to him, the artwork was unforgivable and atrocious.
The twist to the story came when a Twitter user going by @0xRoh tweeted that the project was stolen from its original creators. He went on to share a blog post that detailed the project's theft.
Jinia Shawdagor
Jinia is a fintech writer based in Sweden. With years of experience, she has written about cryptocurrency and blockchain for renowned publications such as Cointelegraph, Bitcoinist, Invezz, etc. She loves gardening, traveling, and extracting joy and happiness from the little things in life.