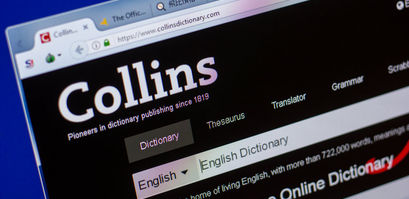 Collins Dictionary crowns NFT the word of the year after its usage soared

Jinia Shawdagor
Last updated 23rd Sep 2022
The non-fungible token (NFT) space has risen to prominence this year, with the launch of numerous projects and multiple high-profile sales on various marketplaces. With the buzz surrounding the digital collectible space, Collins Dictionary has crowned NFT as its word of the year. A report unveiled this news earlier today, noting that Collins chose the word after a meteoric rise in its use this year.
According to the report, the use of the word NFT saw an 11,000% increase over the past year. The term NFT emerged victorious over other popular words like cheugy, climate anxiety, crypto, double-vaxxed, hybrid working, metaverse, neopronoun, pingdemic, and regencycore.
Collins' definition of an NFT is a unique digital certificate, registered in a blockchain, that is used to record the ownership of an asset such as an artwork or a collectible.
Explaining why they chose NFT as the word of the year, Collins' lexicographers said the term demonstrates a unique technicolor collision of art, technology, and commerce. They added that the word had broken through the COVID-19 noise to become ubiquitous.
1
Minimum Deposit
$10
Exclusive Promotion
More than 3,000 assets, including currencies, stocks, cryptocurrencies, ETFs, indices and commodities
Buy crypto, or trade cryptocurrencies via CFDs
This ad promotes virtual cryptocurrency investing within the EU (by eToro Europe Ltd. and eToro UK Ltd.) & USA (by eToro USA LLC); which is highly volatile, unregulated in most EU countries, no EU protections & not supervised by the EU regulatory framework. Investments are subject to market risk, including the loss of principal.
Abbreviations seldom catch on quickly
Alex Beecroft, the Managing Director of Collins Learning, said,
It's unusual for an abbreviation to experience such a meteoric rise in usage, but the data we have from the Collins Corpus reflects the remarkable ascendancy of the NFT in 2021.
Beecroft added that NFTs seem to be everywhere. He pointed out that the sector has made headlines in art sections, finance pages, galleries, auction houses, and social media platforms. While he is not sure whether the word NFT will have a lasting influence, Beecroft said its sudden presence in conversations across the globe earned it its spot as the Collins word of the year.
Apart from NFT, two other technology-related words made Collins' shortlist of 10 words for the year.
Crypto, the short form of cryptocurrency, took fourth place. Reportedly, the word's usage increased 468% year on year. Collins' description of crypto is a decentralized digital medium of exchange that is created, regulated, and exchanged using cryptography and (usually) open-source software, and typically used for online purchases
The other technology-related word in the list is metaverse, a term that Neal Stephenson first used in his 1992 novel Snow Crash. Collins defines metaverse as a proposed version of the internet that incorporates three-dimensional virtual environments. The word's usage has increased 12-fold since 2020, with Facebook's recent rebranding to Meta attracting more attention to the term.
Jinia Shawdagor
Jinia is a fintech writer based in Sweden. With years of experience, she has written about cryptocurrency and blockchain for renowned publications such as Cointelegraph, Bitcoinist, Invezz, etc. She loves gardening, traveling, and extracting joy and happiness from the little things in life.