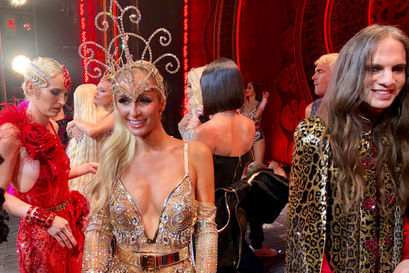 Paris Hilton and Bill Ackman support a $300M NFT foundation

Jinia Shawdagor
Last updated 31st Jan 2023
ORIGYN Foundation, a Swiss-based non-profit organization that helps identify, authenticate, and unlock the power of owning valuable objects, has netted $20 million in a new funding round. The organization unveiled this news through a press release on November 23. The funding round featured investors like American media personality Paris Hilton and billionaire hedge-fund investor Bill Ackman.
According to the news release, other investors in the funding round included Polychain Capital, Coinko, Vectr Ventures, Carter Reum, Div Turakhia, GD10 Ventures, among others.
Commenting on the overwhelming support the foundation got, Daniel Haudenschild, the CEO of ORIGYN Entreprise SA, the entity behind ORIGYN Foundation, said,
We're incredibly fortunate and excited to include so many influential names in this funding round. ORIGYN is unique in what it brings to this world. It's a sign of support for what ORIGYN is trying to achieve—using technology to solve for identity, authenticity and proof of ownership. Our partners have seen the opportunity we provide to unlock value for owners and creators.
The $20 million brought the foundation to a valuation of $300 million, and the funds will go towards research and developing the ORIGYN certification platform, which runs on the Internet Computer (ICP) blockchain.
1
Minimum Deposit
$50
Exclusive Promotion
More than 3,000 assets, including currencies, stocks, cryptocurrencies, ETFs, indices and commodities
Buy crypto, or trade cryptocurrencies via CFDs
This ad promotes virtual cryptocurrency investing within the EU (by eToro Europe Ltd. and eToro UK Ltd.) & USA (by eToro USA LLC); which is highly volatile, unregulated in most EU countries, no EU protections & not supervised by the EU regulatory framework. Investments are subject to market risk, including the loss of principal.
Operating through different verticals
ORIGYN currently operates through four industry verticals. The first platform is ORIGYN Art, which creates a connection between physical works of art and NFT certificates to create the best marketplace experience for creators, industry professionals, collectors, and enthusiasts.
ORIGYN Collectibles is a platform that empowers people with shared passions to buy, sell, trade, and experience collector items. It celebrates and rewards creativity by tokenizing certificates of ownership to verify the uniqueness and authenticity of physical collectibles.
The third vertical is ORIGYN Digital Media, an ecosystem that helps media creators activate their social capital. This ecosystem features a wide array of tools that enable the world's most creative icons to come up with all forms of experiential content.  
On the other hand, ORIGYN Luxury is a digital certification solution that proves the authenticity of luxury objects by using the items' biometric features. Through this vertical, companies get digital certificates that help increase trust with their clients. Per ORIGYN, this solution brings NFTs to life by making them their own proof of authenticity.
NFTs are the future for creators, creatives, and collectors
Explaining why she invested in ORIGYN Foundation, Hilton said she got obsessed with NFTs and the never-ending possibilities the technology offers after launching her first NFT drop in March last year. She added that NFTs are the future for creators, creatives, and collectors. Hilton also believes that the industry is in its initial stages despite booming this year.
The hotel heiress added that,
The potential of NFTs for artists blows my mind, especially when you consider the value it will unlock on things like secondary sales. I will continue to invest and leverage my platform to spread the word about the potential of this incredible new way to think about creativity and art.
Apart from ORIGYN Foundation, Hilton also invested in Origin Protocol, a decentralized NFT platform, in June.
Jinia Shawdagor
Jinia is a fintech writer based in Sweden. With years of experience, she has written about cryptocurrency and blockchain for renowned publications such as Cointelegraph, Bitcoinist, Invezz, etc. She loves gardening, traveling, and extracting joy and happiness from the little things in life.