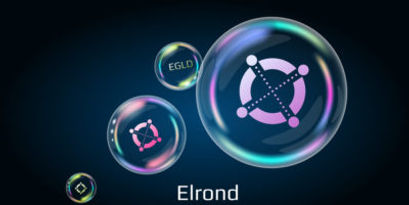 Elrond breaks into top 10 by TVL with $2.06B

Daniela Kirova
Last updated 30th Nov 2022
Elrond (EGLD), a layer 1 smart contract platform that leverages the web assembly (WASM) virtual machine, has broken into the top 10 rankings by TVL (total value locked). It only took them a week, CoinDesk reported. Data from DeFi Llama show that Elrond is now the 10th biggest decentralized finance (DeFi) ecosystem with $2.06 billion in TVL.
Maiar DEX is pushing Elrond
Elrond had been slow in drawing developers despite going live on mainnet in July 2020. However, it's now rising rapidly, pushed by the Maiar decentralized exchange's huge liquidity mining program. The chain's sudden growth may signal the continued significance of so-called "liquidity locusts": traders and investors who move quickly from project to project based on the incentives offered.
Maiar launches $1.29B liquidity mining incentive
An increasing number of chains are trying to buy their way into relevance with appealing, yet ridiculously large incentive programs. One of them is Maiar, who announced a $1.29 billion liquidity mining program recently. They plan to distribute $282 million in the very first month of operations.
Rewards are provided in MEX, Maiar's governance token, which has surged to $0.001345 since the launch of the program. The program's value is currently $7.32 billion in incentives with an impressive 5.44 trillion MEX to be distributed over a period of 12 months. This would probably make the program the largest one for liquidity mining in the history of DeFi assuming price stability.
Elrond Network CEO Beniamin Mincu told CoinDesk in an interview:
With 60,000 users who could claim MEX based on their EGLD holdings before go-live, the Maiar DEX had an impressive Day 1 user count, which keeps increasing.
Elrond is behind Ethereum scaling network Arbitrum in TVL, with the latter standing at $2.35 billion, but head of Waves with $1.5 billion. The Ethereum mainnet holds top position with $171.9 billion, more than half of the aggregate value of DeFi ($260 billion).
Many projects are turning to massive incentive programs
To stand out, projects are increasingly turning to massive incentive programs as the competition between layer 1 platforms to attract funds and users gets more severe. Harmony, Avalanche, Fantom, and Oasis have all adopted this approach or plan to, albeit not on the scale of Maiar and Elrond.
Mincu added that Elrond had functioning cross-chain bridges to Binance Smart Chain, Ethereum, Polygon, Tron, Fantom, and Avalanche at the moment. It will add more DeFi verticals in the coming months.
Daniela Kirova
Daniela is a writer at Bankless Times, covering the latest news on the cryptocurrency market and blockchain industry. She has over 15 years of experience as a writer, having ghostwritten for several online publications in the financial sector.