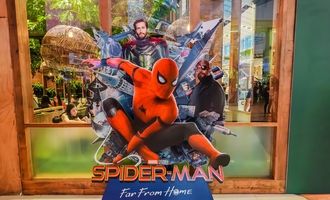 AMC partners with Sony Pictures for a Spider-Man NFT giveaway

Jinia Shawdagor
Last updated 12th Apr 2022
AMC Theatres has become the latest mainstream organization to join the NFT mania through a partnership with Sony Pictures. A press release disclosed this news on November 28, noting that the movie theatre chain seeks to reward early buyers of Spider-Man: No Way Home tickets with Spider-Man-themed NFTs.
According to the news release, AMC intends to offer up to 86,000 NFTs. The publication added that only members of AMC Stubs Premiere, AMC Stubs A-List, and AMC Investor Connect that buy advance tickets to the movie are eligible to get the NFTs. The NFTs will allegedly feature 100 designs from Cub Studios, a renowned animation studio that has won BAFTA and Lovie awards for its works.
Reportedly, the NFT giveaway will only apply to theatre guests that purchase or reserve tickets for December 16, the day the movie premiers.
To help prevent people from getting shortlisted for the giveaway through unscrupulous methods, AMC will need guests to have their tickets scanned when they arrive for the movie. In so doing, the company seeks to prevent people that request ticket refunds or those that do not use their tickets from getting the NFTs.
1
Minimum Deposit
$200
Exclusive Promotion
More than 3,000 assets, including currencies, stocks, cryptocurrencies, ETFs, indices and commodities
Buy crypto, or trade cryptocurrencies via CFDs
This ad promotes virtual cryptocurrency investing within the EU (by eToro Europe Ltd. and eToro UK Ltd.) & USA (by eToro USA LLC); which is highly volatile, unregulated in most EU countries, no EU protections & not supervised by the EU regulatory framework. Investments are subject to market risk, including the loss of principal.
Tapping into an energy-efficient blockchain
AMC noted that it would notify guests that qualify to get NFTs on December 22 via email. The email would comprise an NFT code and redemption instructions. Guests that get emails must use the redemption code by March 1, 2022.
To ensure the NFT redemption process goes smoothly, AMC plans to use a website operated by WAX, an energy-efficient, ultra-low carbon footprint blockchain. The WAX blockchain can allegedly handle up to 15 million transactions per day.
Striving to meet shareholder and guest needs
Commenting on AMC's foray into NFTs, Aron Adam, the company's CEO, said,
Our AMC Theatres guests and our AMC Entertainment shareholders have been calling for AMC to get into the world of NFTs, and we couldn't imagine a more perfect way to start doing so than with our good friends at Sony Pictures.
Touting the partnership, Aron said it came at an opportune moment, seeing as Spider-Man: No Way Home is one of the most-anticipated movies of 2021.  He added that Cub Studios' talented artist would play a pivotal role in giving the latest incarnation of the popular Spider-Man franchise its appropriate respect.
Aron further noted that the Spider-Man NFTs are unlike anything the firm has ever offered as ticket-purchase gifts. However, he believes that the 86,000 slots will go quickly, and theatre guests should strive to get their tickets as early as possible. The ticket sale commenced earlier today.
Jinia Shawdagor
Jinia is a fintech writer based in Sweden. With years of experience, she has written about cryptocurrency and blockchain for renowned publications such as Cointelegraph, Bitcoinist, Invezz, etc. She loves gardening, traveling, and extracting joy and happiness from the little things in life.