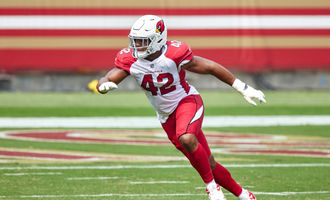 Exclusive: NFL Linebacker Devon Kennard Says Many Players 'Believe in Crypto and the Direction It's Going'

Kyle Odegard
Last updated 24th Jun 2022
When the world learned that Russell Okung had converted half of his annual NFL salary to Bitcoin in December of 2020, it was met with equal parts pessimism and confusion.
But the Pro Bowl offensive tackle proved to be ahead of the curve, as the investment has more than doubled, and now other players are following his lead.
Wide receiver Odell Beckham, Jr. announced last week that he was taking his Los Angeles Rams salary in Bitcoin in a collaboration with CashApp.
Beckham, Okung, Packers quarterback Aaron Rodgers and Giants running back Saquon Barkley are among the NFL players who have vocally supported cryptocurrency, and Arizona Cardinals outside linebacker Devon Kennard believes more will be jumping on board.
"There are a lot of guys who understand and believe in crypto and the direction it's going," Kennard told Bankless Times. "If you're going to dive into that space — if you're doing your due diligence to learn about it to find the best opportunities, whether to invest in Bitcoin, Ethereum or some of the other coins — I think there's great opportunity there. It's not going anywhere, and it's something that I think you're going to see more and more guys get involved in."
The Staples Center was recently renamed Crypto.com, the latest example of the digital currency's mainstream movement. The rapid expansion could allow for more partnerships between companies in the space and professional athletes interested in it.
"I don't know the details of [Beckham's] deal or anyone else's, but I'd like to assume that it's mutually beneficial," Kennard said. "These companies are able to get the exposure — I saw Aaron Rodgers do something recently. I've seen Odell. They are able to bring a lot of exposure to the crypto space and whatever company is partnering with them. I wouldn't be surprised if those athletes are getting paid in crypto in some capacity. It's providing a unique opportunity for athletes to get in that space and benefit from companies that are trying to push their crypto products out there more. It seems very synergistic right now, and I think you'll see more of that coming in the next year or two."
1
Minimum Deposit
$200
Exclusive Promotion
More than 3,000 assets, including currencies, stocks, cryptocurrencies, ETFs, indices and commodities
Buy crypto, or trade cryptocurrencies via CFDs
This ad promotes virtual cryptocurrency investing within the EU (by eToro Europe Ltd. and eToro UK Ltd.) & USA (by eToro USA LLC); which is highly volatile, unregulated in most EU countries, no EU protections & not supervised by the EU regulatory framework. Investments are subject to market risk, including the loss of principal.
Kennard has a keen interest in investing, though his preference has always been real estate because he likes purchasing rental properties that will give him a cash flow after retirement. As the years have gone on, Kennard has also started to branch out into different areas.
"I built a good foundation there, and now it's, 'OK, let me invest a little in the stock market,'" Kennard said. "I'm even getting into startups and venture capital. I'm starting to look into crypto more."
Kennard has seen his younger teammates become interested in investing during the crypto boom and says the intrigue extends beyond the players in the locker room.
"I think with how decentralized it is, it's providing an opportunity for athletes, and really anyone, to invest from their couch," Kennard said. "I think apps like Robinhood and some of the other apps that are allowing crypto — Coinbase and some of the other services — allow you to [invest easily]. Before, to make investments, you had to get a bank account, talk to somebody, do this or that. Now people are able to be grabbing lunch and look at the price of Bitcoin, then say, 'You know what? I'm going to put $5,000 in just because I feel like it today.' 
"I think we're at a unique time in the world, where the ease to invest and being able to do it from your phone at any time, mixed in with the crypto space that's a cool, trendy thing to invest in — it's a new technology that a lot of people are extremely excited about and curious. I think that provides an opportunity for athletes, especially, who typically have enough cash to make certain moves. It's really compelling to get involved in."
When Kennard's NFL teammates ask him about converting their salary into Bitcoin or otherwise investing in cryptocurrency, he gives them some simple but important advice.
"I definitely don't recommend investing in crypto unless you're going to be in it for the long haul," Kennard said. "If you're able to make big wins along the way and draw some money out, great, but you have to think more long-term if you're going to make that investment. The crypto space and NFTs have been very good to those willing to hold on and play the game correctly."

Kyle Odegard
Kyle Odegard has been a sports writer since 2006, spending over seven years as a writer for the NFL's Arizona Cardinals. Kyle also has bylines at ESPN, CBS Sports, MLB.com and the Associated Press.