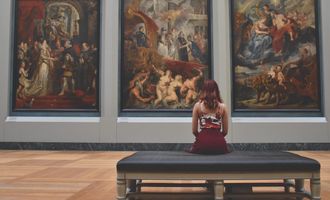 Artworks by Andy Warhol sold as NFTs in the latest merger of crypto and art

Walter Akolo
Last updated 12th Apr 2022
This week, the Art Basel will host a Miami Beach Fair where Andy Warhol's artworks will be displayed and sold as NFTs (or non-fungible tokens).
The fair fuses art and cryptocurrency as collectors, artists, and dealers look to trade and monetize art with blockchain technology.
Warhol is hailed for transforming commercial icons into ingenious artwork, challenging notions of originality and what it means to be an artist. For example, he transformed Campbell's Soup Cans into Pop Art in his famous "The Factory" studio.
His striking art is now being adapted into NFTs — and for a good reason. Crypto is subtly becoming the novel medium for commercializing and trading art.
Every Warhol's art piece to become an NFT
Starting December 4th, Warhol's three artworks will be sold as NFTs — the 1980 "Art" t-shirt (for $95,000), the 1982 Campbell Soup silk-screen on a T-shirt (for $125,000), and the 1977 Volkswagen Beetle silk-screen on canvas (for $600,000).
Rudolf Budja, the owner of an Austrian gallery selling NFT's, said they're only tokenizing real artwork. "We want to make an NFT for every [Warhol's] art piece."
While art buyers are thrilled about the sale, they won't have full ownership of Warhol's pieces even if they buy a single NFT or all of the NFTs on sale. 
Buyers will only have fractional ownership (of about 0.10%) for each NFT they buy.
1
Minimum Deposit
$200
Exclusive Promotion
More than 3,000 assets, including currencies, stocks, cryptocurrencies, ETFs, indices and commodities
Buy crypto, or trade cryptocurrencies via CFDs
This ad promotes virtual cryptocurrency investing within the EU (by eToro Europe Ltd. and eToro UK Ltd.) & USA (by eToro USA LLC); which is highly volatile, unregulated in most EU countries, no EU protections & not supervised by the EU regulatory framework. Investments are subject to market risk, including the loss of principal.
About 499 tokenized artworks by Warhol will be on sale at the Budja.io website. But Budja is expected to retain at least 501 of the art pieces — making him the master owner of the tokenized art pieces with a 51% stake.
NFTs are sold on Cardano blockchain
While most NFTs are launched on the Ethereum blockchain network, Budja will be launching Warhol's NFTs through the Cardano network (with prices quoted in Cardano digital tokens). Currently, each Cardano token is trading at $1.73.
The reason for using the Cardano network is because transaction fees are lower compared to those on Ethereum. So, buyers will pay less for each transaction.
Each Soup Can silk-screen NFT will sell for 85 Cardano tokens — at current prices, that's about $147. The Volkswagen silk-screen NFT will sell for 415 Cardano tokens, while the "Art" T-shirt NFT will cost potential buyers 65 Cardano tokens.
Despite the fact that the NFTs represent only a fraction of the works of art, their owners receive certain rights. For example, you can use the picture in your Instagram account or post it on Twitter. That said, "collectors can put their pieces on a virtual room, like in the Metaverse, where [they] can have [their] gallery", according to Budja.

Walter Akolo
Walter is a writer from Nairobi, Kenya. He covers the latest news on the cryptocurrency market and blockchain industry. Walter has a decade of experience as a writer.