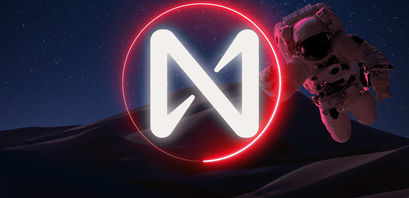 Near price prediction: does this rebound have more gas left?

Crispus Nyaga
Last updated 5th Aug 2022
The Near Protocol price has had a spectacular recovery in the past few days. NEAR is trading at $9.4650, which is about 57% above the lowest level during the weekend. It has risen by about 21% in the past 24 hours, bringing its total market capitalization to more than $5.35 billion.
Why has NEAR jumped?
Near Protocol is a venture-funded blockchain project that has raised more than $12 billion from the likes of Dragonfly Capital and Fundamental Labs.
It is a smart-contract platform that enables developers to build decentralized applications (DAPPs) in all industries like DeFi and NFTs.
To a large extent, the Near Protocol is similar to other smart contract platforms like Ethereum, Avalanche, and Solana. The main difference is the technology it uses to optimize its process.
In November, the team behind Near launched a technology known as nightshade sharding. This is a technology that is used by other platforms like Elrond and Zilliqa.
1
Minimum Deposit
$10
Exclusive Promotion
More than 3,000 assets, including currencies, stocks, cryptocurrencies, ETFs, indices and commodities
Buy crypto, or trade cryptocurrencies via CFDs
This ad promotes virtual cryptocurrency investing within the EU (by eToro Europe Ltd. and eToro UK Ltd.) & USA (by eToro USA LLC); which is highly volatile, unregulated in most EU countries, no EU protections & not supervised by the EU regulatory framework. Investments are subject to market risk, including the loss of principal.
For starters, sharding involves dividing the number of blocks into small blocks that are known as shards. By so doing, the number of transactions processed or throughput can be relatively faster. Indeed, the Near Protocol can handle about 100k transactions per second (tps).
The NEAR price is rising mostly because of two main reasons. First, the coin was added to MoonPay's ecosystem. MoonPay is a fast-growing exchange that has more than 5 million users globally. The company announced that it will add NEAR into its marketplace. This means that users will be able to buy and sell the coin.
Second, in an announcement, NEAR said that it had partnered with KYEV Network. The partnership will see developers have access to KYEV's storage and validation for their data streams. The announcement came a few days after the developers launched a new delegation program.
Near protocol price prediction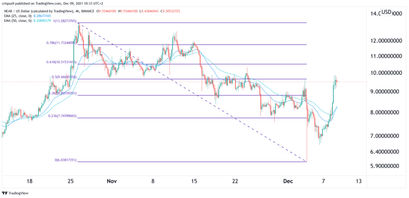 The four-hour chart shows that the NEAR price has made a lot of recovery in the past few days. It has risen by almost 60% from its lowest level during the weekend. Along the way, the coin has managed to move to the 50% Fibonacci retracement level.
It has also moved above the 25-day and 50-day moving averages (MA). This is a bullish signal. Therefore, I suspect that the coin will keep rising as bulls target the key resistance level at $12, which is along the 78.2% retracement level.
If you want to trade cryptocurrencies, you might be interested in automated cryptocurrency trading robots such as Bitcoin Prime, Bitcoin Era and Bitcoin Code.

Crispus Nyaga
Crispus is a financial analyst with over 9 years in the industry. He covers cryptocurrencies, forex, equities, and commodities for some of the leading brands. He is also a passionate trader who operates his family account. Crispus lives in Nairobi with his wife and son.