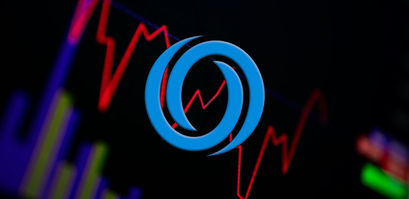 Oasis Network price prediction: What next for ROSE prices?

Crispus Nyaga
Last updated 12th Apr 2022
The Oasis Network price defied gravity as other cryptocurrencies declined on Monday morning. The ROSE token is trading at $0.3178, which is about 50% above the lowest level during the weekend. This rally brings its total market capitalization to more than than $1.1 billion, making it the 86th biggest cryptocurrency in the world.
What is the Oasis Network?
Ethereum is the biggest smart contract technology platform in the world. Developers use the network to build decentralized apps (dApps) and decentralized autonomous organizations (DAOs). For example, developers have used it to build Decentraland, one of the leading metaverse projects.
While Ethereum is a leading blockchain project, it has its challenges. For one, since it is a proof-of-work network, mining new Ethers is a relatively expensive and energy-inefficient process.
Ethereum's network is also relatively expensive and slow. For example, it takes several minutes for an Ethereum transaction to be completed.
Therefore, developers have been coming up with blockchain projects that are fast and energy-efficient. Some of the so-called Ethereum-killers are Solana, Binance Smart Chain, and Avalanche.
1
Minimum Deposit
$200
Exclusive Promotion
More than 3,000 assets, including currencies, stocks, cryptocurrencies, ETFs, indices and commodities
Buy crypto, or trade cryptocurrencies via CFDs
This ad promotes virtual cryptocurrency investing within the EU (by eToro Europe Ltd. and eToro UK Ltd.) & USA (by eToro USA LLC); which is highly volatile, unregulated in most EU countries, no EU protections & not supervised by the EU regulatory framework. Investments are subject to market risk, including the loss of principal.
Oasis Network is one of the newest Ethereum-killers in the market. It is a decentralized platform with privacy at its core. It achieves this by separating ParaTimes from Consensus. This separation means that complex workloads can be processed on one ParaTime while other simpler processes are handled with other ParaTimes.
Oasis Network is backed by some of the biggest names in Silicon Valley including Polychain Capital, Salesforce Ventures, Accel, Winklevoss Capital, and Huobi Capital.
The Rose Token is the native coin for the Oasis Network. It has a supply of about 1.5 billion tokens and the total cap is fixed at 10 billion. Like other coins, Rose is used for paying transaction fees, staking, and delegating in the consensus layer.
Oasis Network price prediction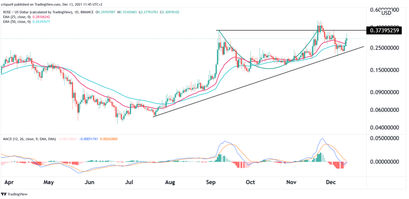 The daily chart shows that the ROSE price has been in a bullish trend in the past few months. The price has risen by more than 600% from its lowest level in July. Along the way, it has moved above the 25-day and 50-day exponential moving averages (EMA).
The Oasis Network price has also formed the handle section of the cup and handle pattern. Therefore, there is a likelihood that the price will have a bullish breakout in the near term. If this happens, the next key resistance level to watch will be at $0.50.
If you want to trade cryptocurrencies, you might be interested in automated cryptocurrency trading robots such as Bitcoin Profit, Bitcoin Revolution and Bitcoin Trader.

Crispus Nyaga
Crispus is a financial analyst with over 9 years in the industry. He covers cryptocurrencies, forex, equities, and commodities for some of the leading brands. He is also a passionate trader who operates his family account. Crispus lives in Nairobi with his wife and son.