Ethereum price prediction: ETH to get worse before bouncing back

Crispus Nyaga
Last updated 11th Aug 2022
Ethereum price has declined in the past two consecutive days as investors focus on the tightening monetary situation. ETH is trading at $3,885, which is about 20% below its highest level this year. Its total market capitalization has declined to more than $469 billion.
Tight monetary conditions
Ethereum price has had a rollercoaster in the past two years. The price has managed to rise from a low of less than $100 in 2020 to almost $5,000. It was not alone considering that Bitcoin surged from less than $4,000 to almost $70,000.
Most analysts believe that the actions of the Federal Reserve and other central banks were behind the rally. For example, the Federal Reserve lowered interest rates to 0% and then implemented the biggest balance sheet expansion process.
The Fed has implemented what is known as quantitative easing. This is when it decided to print money and then channels it to the market by buying government bonds and mortgage-backed securities (MBS).
During the Covid-19 era, the Fed boosted its assets from less than $4 trillion to more than $9 trillion. It did that by buying assets worth $120 billion every month.
1
Minimum Deposit
$10
Exclusive Promotion
More than 3,000 assets, including currencies, stocks, cryptocurrencies, ETFs, indices and commodities
Buy crypto, or trade cryptocurrencies via CFDs
This ad promotes virtual cryptocurrency investing within the EU (by eToro Europe Ltd. and eToro UK Ltd.) & USA (by eToro USA LLC); which is highly volatile, unregulated in most EU countries, no EU protections & not supervised by the EU regulatory framework. Investments are subject to market risk, including the loss of principal.
Now, Ethereum price is struggling as investors react to the latest Federal Reserve decision. In it, the bank hinted that it is about to move on. It increased the size of its taper from $15 billion to $30 billion. It hopes that the quantitative easing program will end in March next year.
Most importantly, the Fed hopes that it will start a hiking cycle in 2022. It expects that it will implement three rate hikes during the year. In the previous meetings, the bank hinted that it will hike in 2024.
Therefore, ETH is struggling as investors wonder about what will happen when the tightening cycle starts. The logic behind this is simple. If Ethereum rose during the easing cycle, will it not lag when tightening starts?
Ethereum price prediction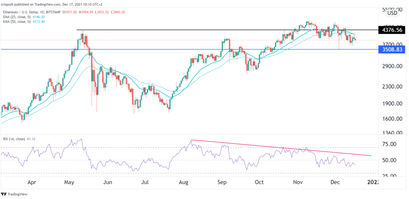 The daily chart shows that the ETH price has struggled in the past few days. It has managed to drop below the key support at $4,376, which was the highest point on May 12.
Notably, the coin's 25-day and 50-day moving averages (MA) have formed a bearish crossover pattern. This is usually a bearish sign. The Relative Strength Index (RSI) has formed a bearish divergence pattern.
Therefore, there is a likelihood that the coin will keep falling as bears target the key support at $3,500. This view will be invalidated if the coin moves above $4,000.
If you want to invest in Ethereum, you might be interested in automated cryptocurrency trading robots such as Bitcoin Profit, Bitcoin Revolution and Bitcoin Trader.

Crispus Nyaga
Crispus is a financial analyst with over 9 years in the industry. He covers cryptocurrencies, forex, equities, and commodities for some of the leading brands. He is also a passionate trader who operates his family account. Crispus lives in Nairobi with his wife and son.