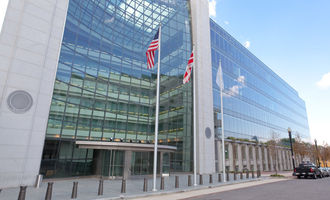 XRP price prediction ahead of the SEC vs Ripple lawsuit anniversary

Crispus Nyaga
Last updated 9th May 2022
The XRP price has been in a relatively tight range ahead of the first-year anniversary of the SEC case against Ripple. The coin is trading at $0.85, where it has been in the past few days. This price is about 30% above the lowest level in December. Its market capitalization has moved to about $41 billion.
SEC vs Ripple anniversary
The Securities and Exchange Commission (SEC) launched a major case against Ripple Labs and two of its executives in a US court. It filed this case on December 22 in 2020, meaning that its anniversary is fast approaching.
The SEC case led to a sharp decline of the XRP price and the delisting of the coin in major exchanges like Coinbase and Kraken. Ripple Labs also lost MoneyGram as a partner.
The SEC accused the company and its executives of raising $1.3 billion through an unregistered digital asset offering in 2013. The lawsuit said:
"Issuers seeking the benefits of a public offering, including access to retail investors, broad distribution and a secondary trading market, must comply with the federal securities laws that require registration of offerings unless an exemption from registration applies."
In 2021, the lawsuit continued on well as the two sides argued their case. Ripple Labs and its executives argued that XRP was a cryptocurrency just like BTC and ETH. As such, there was no need for them to register the raising with the SEC. Analysts now expect that the judge will deliver his judgment in 2022.
Still, despite the lawsuit, 2021 has been a good year for Ripple. The XRP price has risen by more than 96% from where it was when the case was filed. It has also risen by more than 400% from its lowest level in December.
Ripple Labs has also inked several deals this year. For example, it acquired a major stake in Tranglo. It also partnered with the Republic of Palau, Bhutan, Paydek, and GME Remittance.
XRP price prediction
The daily chart shows that the Ripple price formed a double-top pattern at $1.3565 recently. The neckline of this pattern was at $0.8730, where it is trading at currently. This means that the coin has formed a break and retest pattern. It is also slightly below the 61.8% Fibonacci retracement level.
The XRP price has also moved below the 25-day and 50-day moving averages. The Relative Strength Index (RSI) has risen to about 40. Therefore, the coin will likely resume the bearish trend ahead of the lawsuit anniversary.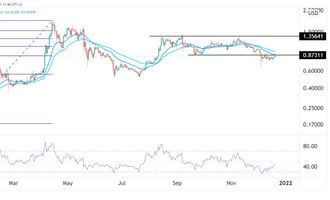 If you want to trade cryptocurrencies, you might be interested in automated cryptocurrency trading robots such as Bitcoin Prime, Bitcoin Era and Bitcoin Code.

Crispus Nyaga
Crispus is a financial analyst with over 9 years in the industry. He covers cryptocurrencies, forex, equities, and commodities for some of the leading brands. He is also a passionate trader who operates his family account. Crispus lives in Nairobi with his wife and son.