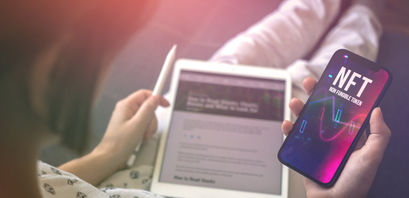 Global search interest for NFT exceeds crypto for the first time ever

Jinia Shawdagor
Last updated 5th Aug 2022
The non-fungible token (NFT) space has continued gaining steam, with the global search interest for the term NFT exceeding crypto for the first time. A report unveiled this news on December 23, citing data from Google Trends. Reportedly, transactions on OpenSea, the leading NFT marketplace, exceeded $10 billion this year.
According to the report, this surge in interest comes as NFTs continue going mainstream, with leading companies like Nike and Adidas joining the space with metaverse NFTs. Renowned people like Rapper Snoop Dogg and former US first lady Melania Trump also embraced the sector after launching their NFT projects.
On top of this, NFT games such as Axie Infinity and Sorare have also boosted the prevalence of the industry as more gamers continue embracing web3 due to the promise of earning while playing. Also, NFTs have caught on in the charity industry, with non-profit organizations raising funds for noble causes, such as educating children. By donating NFTs, collectors in the US can also save on taxes.
NFTs have also proven a useful tool for artists across the globe, seeing as they let them share their work without the need of exhibiting their art physically. For instance, the Mongol NFT platform allows Mongols to tokenize their history as nomadic horse riders. Despite launching in September, this platform has gained over 100,000 users.
1
Minimum Deposit
$10
Exclusive Promotion
More than 3,000 assets, including currencies, stocks, cryptocurrencies, ETFs, indices and commodities
Buy crypto, or trade cryptocurrencies via CFDs
This ad promotes virtual cryptocurrency investing within the EU (by eToro Europe Ltd. and eToro UK Ltd.) & USA (by eToro USA LLC); which is highly volatile, unregulated in most EU countries, no EU protections & not supervised by the EU regulatory framework. Investments are subject to market risk, including the loss of principal.
Beeple' Everydays: the First 5000 Days remains the top NFT of 2021
Although NFTs have soared this year, Beeple's Everydays: the First 5000 Days, remains the most expensive piece this year after selling for $69.3 million in a Christie's auction earlier this year. This piece is a collage that comprises 5,000 digital images. Notably, this NFT is among the most expensive art by a living artist.
This news comes after the rise of NFTs this year saw Collins Dictionary named NFT the word of the year after its use increased significantly this year. Reportedly, the use of the word NFT saw an 11,000% increase over the past year.
According to Alex Beecroft, the Managing Director of Collins Learning,
It's unusual for an abbreviation to experience such a meteoric rise in usage, but the data we have from the Collins Corpus reflects the remarkable ascendancy of the NFT in 2021.
Jinia Shawdagor
Jinia is a fintech writer based in Sweden. With years of experience, she has written about cryptocurrency and blockchain for renowned publications such as Cointelegraph, Bitcoinist, Invezz, etc. She loves gardening, traveling, and extracting joy and happiness from the little things in life.