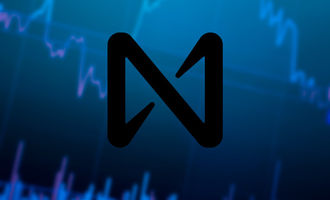 NEAR price prediction: Buy the Dip or Sell the Rip?

Crispus Nyaga
Last updated 12th Apr 2022
The NEAR price tilted higher as other cryptocurrency prices remained under pressure. The coin's price is trading at $14, which is a few points above Tuesday's low of $12.80. Its total market capitalization has risen to more than $8.46 billion, making it the 23rd biggest cryptocurrency in the world.
Why has NEAR jumped?
The NEAR protocol is an Ethereum-killer that uses a different method to execute transactions in its network. In November, the network launched the nightshade sharding process, which is believed to be a better approach to blockchain processing.
Sharding is a process where work in the network is split among all participating nodes. The split nodes are known as shards and is the same process that the Ethereum Foundation plans to scale the network. As a result, the NEAR Protocol is able to handle more than 10,000 transactions per second (tps) while Ethereum only handles less than 20 transactions. In an update, the developers wrote:
"In early 2022, NEAR will move into Nightshade Phase 1, in which we will introduce the new role of chunk-only producers—those who only validate one shard. They produce chunks (shard blocks) for a specific shard and don't need expensive hardware to do so—all without sacrificing network security."
The NEAR price has also rallied after the foundation partnered with Terra. Terra is a South Korean blockchain platform that has grown to become the biggest player in the Decentralized Finance (DeFi) industry. It is also known for being the parent of TerraUST, a leading stablecoin.
1
Minimum Deposit
$200
Exclusive Promotion
More than 3,000 assets, including currencies, stocks, cryptocurrencies, ETFs, indices and commodities
Buy crypto, or trade cryptocurrencies via CFDs
This ad promotes virtual cryptocurrency investing within the EU (by eToro Europe Ltd. and eToro UK Ltd.) & USA (by eToro USA LLC); which is highly volatile, unregulated in most EU countries, no EU protections & not supervised by the EU regulatory framework. Investments are subject to market risk, including the loss of principal.
Last week, NEAR announced that it will integrate TerraUST in its network. It will achieve this by partnering with Nearpad and Rose, two of the leading DeFi protocols. Users will be able to bridge assets directly from Terra to Aurola using Allbridge. In a statement, the founder of NearPad and Rose said:
"I'm excited to be working closely with the Terra team to not only bring UST to NearPad and Rose, but also for the deeper integrations and collaborative projects this partnership enables."
NEAR price prediction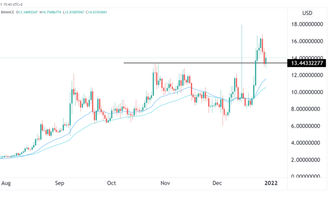 The daily chart shows that the NEAR price soared to an all-time high of $17.93 in December. It then dropped and reached a low of $8 and then bounced back. This week, the price declined from a high of $16.85 and then tested the key support at $12.70. This was an important level since it was the highest level in October.
It has also moved above the 25-day and 50-day moving averages and done a break and retest pattern. In price action analysis, this pattern is usually a bullish sign.
Therefore, I expect that the NEAR Protocol price will keep falling as bears target the key support level at $10. In the long-term, however, the price will likely rebound and soar above $20.
If you want to trade cryptocurrencies, you might be interested in automated cryptocurrency trading robots such as Bitcoin Prime, Bitcoin Era and Bitcoin Code.

Crispus Nyaga
Crispus is a financial analyst with over 9 years in the industry. He covers cryptocurrencies, forex, equities, and commodities for some of the leading brands. He is also a passionate trader who operates his family account. Crispus lives in Nairobi with his wife and son.