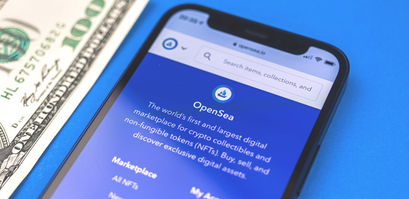 OpenSea secures $300M in a Series C funding round at a $13.3B valuation

Jinia Shawdagor
Last updated 11th Aug 2022
OpenSea, the leading non-fungible token (NFT) marketplace, has raised $300 million in a Series C funding round. The company unveiled this news through a blog post on January 4, noting that VC firms Paradigm and Coatue led the funding round. This financing round has brought OpenSea's valuation to a whopping $13.3 billion.
According to the blog post, the Series C funding round also featured several new and existing investors. With the obtained funds, OpenSea expand and expedite product development, improve customer support, invest in the web3 ecosystem, and hire more staff.
Delving deeper into these plans, Devin Finzer, the co-founder and CEO of OpenSea, pointed out that the company seeks to bring NFTs to a broad consumer audience in 2022. These plans saw the company tap the talent of Shiva Rajaraman, Meta's former VP of Commerce, who joined OpenSea as its new VP of Product.
Lowering entry barriers of the NFT space
According to Finzer,
Shiva is passionate about building a new web that rewards creativity and participation with fewer gatekeepers, better privacy, and sustainable economics.
With Rajaraman in its corner, OpenSea seeks to lower the barriers of entry for NFTs by debuting features and simplified flows that eliminate the complexities of the blockchain. Finzer added that the platform intends to accelerate its multi-chain support and prioritize enhancements that help people discover, manage, and showcase NFTs with better tools, analytics, and presentation.
As part of improving its security, OpenSea said it is expanding its customer support team, enhancing trust and safety, and bolstering site stability and integrity. To achieve this feat, the company seeks to invest in products and systems that protect and empower users.
At the moment, OpenSea's customer support team boasts over 60 people, and the company seeks to double this number by the end of 2022.
1
Minimum Deposit
$10
Exclusive Promotion
More than 3,000 assets, including currencies, stocks, cryptocurrencies, ETFs, indices and commodities
Buy crypto, or trade cryptocurrencies via CFDs
This ad promotes virtual cryptocurrency investing within the EU (by eToro Europe Ltd. and eToro UK Ltd.) & USA (by eToro USA LLC); which is highly volatile, unregulated in most EU countries, no EU protections & not supervised by the EU regulatory framework. Investments are subject to market risk, including the loss of principal.
Improving the broader NFT ecosystem
In the publication, Finzer said,
We are committed to expanding the entire NFT ecosystem. This quarter, we are launching a grant program to give us the opportunity to directly support the developers, builders, and creators shaping the future of the NFT space.
He added that OpenSea seeks to help expand the scale and growth of the NFT ecosystem by introducing reforms such as raising the profile of emerging creators. Additionally, OpenSea plans to start investing in people that are helping shape the NFT space.
This news comes as OpenSea continues proving an NFT leader. In the past month, the marketplace's trading volume exceeded $3 billion for the second time in 2021 despite critics claiming the NFT space is a craze.
Jinia Shawdagor
Jinia is a fintech writer based in Sweden. With years of experience, she has written about cryptocurrency and blockchain for renowned publications such as Cointelegraph, Bitcoinist, Invezz, etc. She loves gardening, traveling, and extracting joy and happiness from the little things in life.