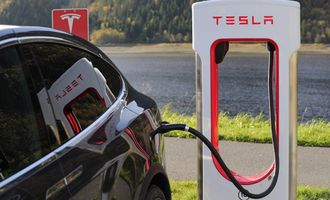 California man uses his Tesla to mine Ethereum, claims to make $800 a month last year

Walter Akolo
Last updated 12th Apr 2022
A California-based man claims he earned nearly $800 a month last year by mining cryptocurrency (specifically Ethereum) using his Tesla Model 3.
Siraj Raval, who occasionally creates educative content on YouTube, said he used his 2008 Tesla's internal system to mine cryptocurrency.
According to Raval, the process was simple. He "manipulated" the vehicle's internal systems to help channel extra power to his five GPUs already plugged into the vehicle's electric battery and mining Ethereum coins.
He discloses that "[Tesla] is a computer with wheels. It's so simple to hack into this computer car". He further claims that the painstaking process allowed him to run the hashing algorithm for Ethereum 20 hours a day from his vehicle's 75-kWh battery.
"Not worth it"
The "simple" mining process earned him almost $400 to $800 every month last year.
He attributes much of his earnings from investing his Ethereum coins on Midas Investments—a cryptocurrency investment mining platform. (His investment on the platform made him an annual percentage yield (APY) of 23%)
He also reveals his discipline of never cashing out his investment and buying GPUs from eBay helped him save a significant amount of money in the process.
But Chris Allessi, also a cryptocurrency miner, said though the returns are lucrative, mining crypto from a Tesla is "hardly worth it".
"Why would you want to put that kind of wear and tear on a $40,000 to $100,000 car?"
Allessi isn't new to mining crypto using a car. "K-MAN", as he's popularly known on YouTube, once tried to mine Bitcoin using his Tesla Model S.
He explains how he took a Bitmain Antminer S9 (a tool used for mining cryptocurrency), plugged it directly into the vehicle's battery, and then used a power inverter to trip down the battery's power to a level suited for his mining tool (or "mining rig").
1
Minimum Deposit
$200
Exclusive Promotion
More than 3,000 assets, including currencies, stocks, cryptocurrencies, ETFs, indices and commodities
Buy crypto, or trade cryptocurrencies via CFDs
This ad promotes virtual cryptocurrency investing within the EU (by eToro Europe Ltd. and eToro UK Ltd.) & USA (by eToro USA LLC); which is highly volatile, unregulated in most EU countries, no EU protections & not supervised by the EU regulatory framework. Investments are subject to market risk, including the loss of principal.
Mining crypto is difficult now more than ever
According to Allessi, as the value of crypto surges, the more difficult the mining process. For example, $10 worth of Bitcoin in 2008 is now worth a mere $1 or $2 today.
Thomas Sohmers, another crypto miner, agrees with Allessi's sentiments, adding Raval's manipulation of the Tesla's internal firmware is pointless because … "[the car] is already built to deliver over 100 kilowatts".
Whit Gibbs—the founder and chief executive of Compass (a Bitcoin mining service provider)—exclaims it's possible to mine cryptocurrency with a Tesla. 
After all… "The mechanisms are all there. You have a power source, you have space, and you [can] add cooling [systems]. There's certainly enough power provided by the battery to fire up [a miner] and run it".

Walter Akolo
Walter is a writer from Nairobi, Kenya. He covers the latest news on the cryptocurrency market and blockchain industry. Walter has a decade of experience as a writer.