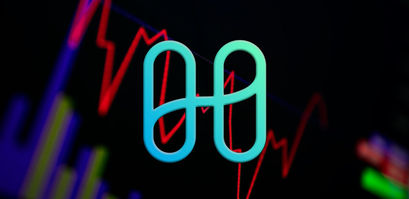 Harmony price is eying its all-time high. What next?

Crispus Nyaga
Last updated 12th Apr 2022
The Harmony price is nearing its all-time high as investors predict that it could be the next big thing in the industry. ONE, its native token, is trading at $0.3550, which is a few points below its all-time high of $0.3800. It has jumped by over 117% from its lowest level this month.
What is Harmony?
Harmony is a fast-growing blockchain network that seeks to help developers accelerate their Ethereum projects. 
While Ethereum is a great layer-1 platform, most users complain about apps developed in its ecosystem. Because of how the platform was created, its apps are often slow and expensive. For example, it takes a few minutes for a transaction in Ethereum to be confirmed. These transactions are also highly expensive.
Therefore, developers have used several approaches to scale Ethereum apps. The most common one is the one used by Polygon, which is the biggest layer-2 network valued at over $16 billion. 
Harmony is also a similar project that helps to accelerate these projects. Projects running on its platform experience a transaction finality of about 2 seconds while fees are about 1,000 lower than those in Ethereum. 
1
Minimum Deposit
$200
Exclusive Promotion
More than 3,000 assets, including currencies, stocks, cryptocurrencies, ETFs, indices and commodities
Buy crypto, or trade cryptocurrencies via CFDs
This ad promotes virtual cryptocurrency investing within the EU (by eToro Europe Ltd. and eToro UK Ltd.) & USA (by eToro USA LLC); which is highly volatile, unregulated in most EU countries, no EU protections & not supervised by the EU regulatory framework. Investments are subject to market risk, including the loss of principal.
Today, there are over 200 apps in its network, with DeFi Kingdoms being the biggest. Other popular apps in its network are ViperSwap, Sushi, and Euphoria. According to DeFi Pulse, DeFi apps built in Harmony have a combined total value locked (TVL) of over $1.15 billion, making it the 14th biggest network.
After tumbling hard this week, the price of Harmony and other layer 1 and layer 2 networks like Terra, Polygon, and Oasis Network have all bounced back as investors buy the dip.
Harmony price prediction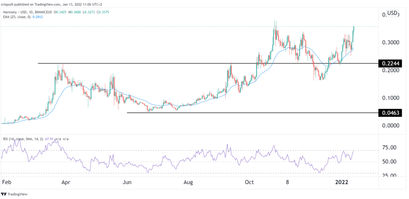 The daily chart shows that the ONE price surged to an all-time high of $0.3800 in October. It then declined by over 56% and reached a low of $0.1600 in December. Since then, the coin has been in a strong bullish trend. At times, it has moved against the grain, rising when Bitcoin and other altcoins are falling.
The Harmony price is above the 25-day and 50-day moving averages while the Relative Strength Index (RSI) has moved close to its overbought level. Therefore, the path of the least resistance for the ONE price is in the upside. The next key level to watch is the all-time high of $0.375. A move above this level will open the possibility for the coin rising above $0.3900.

Crispus Nyaga
Crispus is a financial analyst with over 9 years in the industry. He covers cryptocurrencies, forex, equities, and commodities for some of the leading brands. He is also a passionate trader who operates his family account. Crispus lives in Nairobi with his wife and son.