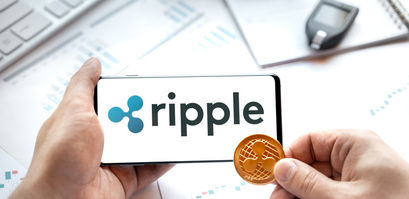 RippleX, Ripple's developer arm, rolls out the much-awaited NFT-Devnet

Jinia Shawdagor
Last updated 12th Apr 2022
Through NFT-Devnet, developers can study and experiment with NFTs of the XRP Ledger.
Based on XLS-20d, NFT-Devnet will allow NFT minting, trading, and burning.
The platform also features advanced functionalities like automatic royalties and co-ownership.
Ripple developer arm RippleX has launched NFT-Devnet, a much-anticipated platform that lets developers learn and experiment with non-fungible tokens (NFTs) on the XRP Ledger (XRPL). The entity announced this news on January 11, welcoming developers to start building apps and tokenization uses cases on the platform.
According to the announcement, the NFT capabilities come after the integration of the XLS-20d proposal, which was first introduced in May 2021. Reportedly, XLS-20d introduces extensions that support a native NFT type on XRPL. The extensions also power operations to enumerate, transfer, and store NFTs.
1
Minimum Deposit
$200
Exclusive Promotion
More than 3,000 assets, including currencies, stocks, cryptocurrencies, ETFs, indices and commodities
Buy crypto, or trade cryptocurrencies via CFDs
This ad promotes virtual cryptocurrency investing within the EU (by eToro Europe Ltd. and eToro UK Ltd.) & USA (by eToro USA LLC); which is highly volatile, unregulated in most EU countries, no EU protections & not supervised by the EU regulatory framework. Investments are subject to market risk, including the loss of principal.
Integrating XLS-20d into XRPL will let developers access all essential NFT functionalities, including minting, trading, and burning. The proposal also features advanced functionalities like automatic royalties and co-ownership. Automatic royalties let developers create sophisticated royalty structures, and co-ownership expands access possibilities to assets.
The announcement added,
The NFT-Devnet is a beta environment where developers can preview, test and experiment with XLS-20d on XRPL before it is enabled on the Mainnet.
Considering this is the first time developers can mint NFTs on XRPL, RippleX encouraged creators that want to build NFT projects or those wanting to get started to visit xrpl.org to get guidance.
NFT movement continues gathering steam
This news comes after NFTs became popular in the past year, with data from DappRadar showing the industry recorded a volume of $25.00 billion (£18.20 billion). In comparison, the NFT trading volume in 2020 was only $94.00 million (£69.09 million). NFTs marketplaces also expanded rapidly, with OpenSea raising $300.00 million (218.15 million) at a $13.30 billion (£9.69 billion) valuation earlier this month.
Mainstream companies such as Adidas, Nike, The Associated Press, Binance, and Coinbase, to mention a few, have also embraced NFTs.
With so many success stories, it is no wonder that Ripple is trying to get its fair share of the NFT pie through the new changes. Positioning itself as a worthy contender for networks like Ethereum and Solana, Ripple intends to make its NFT platform cost-efficient and environmentally friendly.
Ripple's efforts also saw it launch the XRPL Grants program, which is focused on NFT development. According to Ripple, the XRPL Grants program seeks to engage, fund, and support the independent developer community and the technical projects they build on the XRP Ledger. The first wave of this initiative saw the company award 20 grantees over $2.00 million (£`1.46 million).
Jinia Shawdagor
Jinia is a fintech writer based in Sweden. With years of experience, she has written about cryptocurrency and blockchain for renowned publications such as Cointelegraph, Bitcoinist, Invezz, etc. She loves gardening, traveling, and extracting joy and happiness from the little things in life.