This January, the Australian Open will become the first major sporting event to take place within the metaverse, with people able to create avatars, walk around, watch games and engage with side events through the platform AO Decentraland.
The tennis tournament will be selling 6,776 non-fungible tokens (NFTs) of unique tennis balls – digital ones, of course – which will also be linked to spots on the physical tennis courses at the event. If an NFT owner's spot gets hit by a championship point in the real world, they will win the physical ball too.
The case is a great example of innovation within the NFT world, and how areas like art, sport and gaming intersect.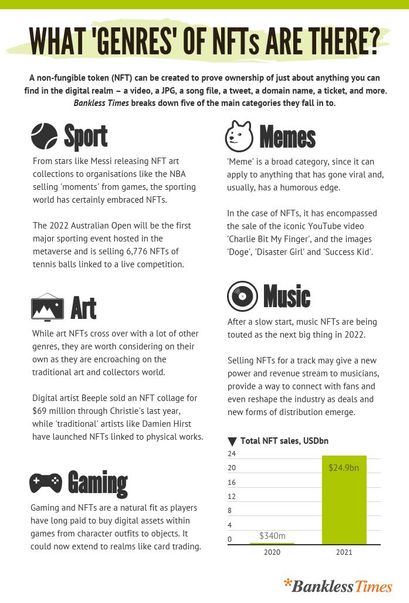 Billion-Dollar Industry
The market for NFTs exploded in 2021, with sales rising from $340 million to a staggering $24.9 billion.
"I think we'll see another year of microbubbles in the NFT market, where huge attention ebbs and flows in two or three waves, each bigger than the last," says Nick Almond, Founder and Protocol Leader of Finance.Vote.
The cryptography expert expects that lower trading fees and better UX on the coinbase marketplace will help catapult NFT figures ten-fold.
Current NFT Genres
As traditional institutions from sporting bodies to record labels get on the NFT train, this year's NFT figures could indeed surpass 2021. The infographic below shows the main NFT areas set to take off this year:
"We'll see NFTs and the gaming world crossover and in-game items with in-game currencies finding tradable markets, which will introduce NFTs to one of the biggest industries in the world."
Almond, who also goes by Dr. Nick, also expects popular YouTubers and influencers to launch NFTs, which will drive NFTs to digital-native audiences.
Future of NFTs
Dr. Nick expects NFTs to revolutionize three areas:
Identity – "NFTs have the potential to represent your digital identity and these will progress past merely profile pictures to adopting a wide range of characteristics and personalized traits that can be transitioned into the metaverse."
Voting – "NFTs make more sense as governance tokens than fungible tokens and it takes DAOs into a new territory where NFT voting power can be earned in the form of reputation."
Membership – "NFTs are access passes, whether it's access to a gated group or real world events and parties. We'll see digital clubs emerge that become the hottest tickets in town."