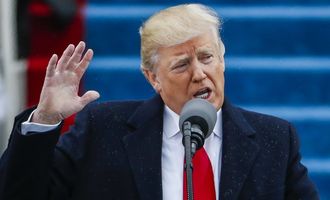 Social platform Parler launches a Trump legacy NFT collection

Jinia Shawdagor
Last updated 29th Jun 2022
Parler, a controversial free-speech social media platform popular among US conservatives, is readying to launch an NFT collection based on former US President Donald Trump. The social platform unveiled this news through a press release earlier today, noting that it teamed up with Jon McNaughton, America's top conservative artist, in this initiative.
According to the news release, the collection is titled McNifty, and it highlights Trump in a wide range of settings, which capture the essence of his presidency. To achieve this feat, McNaughton leverages symbolic imagery serious undertones. McNaughton illustrates how Trump's legacy has and will continue to disrupt American politics in the entire collection.
The first drop will be on Ethereum, and it includes 10,000 unique pieces obtained from hundreds of hand-painted images stamped as ERC-721 tokens. Whitelist application will be open until January 19, and the pre-sale, which are available to whitelist subscribers only, will commence on January 20 via the Let's Go NFT marketplace.
Each token will go for 0.10 Ether (ETH) or approximately $327.80. Parler intends to open a public sale if all NFTs do not sell out in the pre-sale. Per the publication, collectors that purchase NFTs in the McNifty collection would also get exclusive access and opportunities as McNaughton continues telling the story of reclaiming America's glory.
1
Minimum Deposit
$200
Exclusive Promotion
More than 3,000 assets, including currencies, stocks, cryptocurrencies, ETFs, indices and commodities
Buy crypto, or trade cryptocurrencies via CFDs
This ad promotes virtual cryptocurrency investing within the EU (by eToro Europe Ltd. and eToro UK Ltd.) & USA (by eToro USA LLC); which is highly volatile, unregulated in most EU countries, no EU protections & not supervised by the EU regulatory framework. Investments are subject to market risk, including the loss of principal.
Trump maintains a negative outlook on crypto
Commenting on the company web3 foray, Parler CEO George Farmer said,
We're thrilled to bring McNaughton's Trump Legacy Collection to our Parler base and beyond. His acclaimed style, creative message, and digital delivery align perfectly with Parler's goal to move squarely into Web 3 technologies and partnerships that further our commitment to freedom of expression.
Explaining why he decided to partner with Parler, McNaughton said he wanted to communicate his ideas. He further noted that his art reflects who he is. He added that he does not use a shade of gray to make his point because he wants future generations to know exactly how he felt during this time in America's history.
While both Parler and McNaughton are bullish on the McNifty collection, it is worth noting that Trump is a cryptocurrency critic. While he has not yet shared his opinions on NFTs, he claims the same cryptocurrencies used for NFT payments are very dangerous.
Notably, this is not the first time the Trump name has appeared in the NFT industry. In December last year, Melania Trump, the former first lady, launched an NFT platform on Solana. At the time, Melania said her venture into NFTs represented her love for the arts, and that it seeks to support her commitment to helping children through her Be Best initiative.
Jinia Shawdagor
Jinia is a fintech writer based in Sweden. With years of experience, she has written about cryptocurrency and blockchain for renowned publications such as Cointelegraph, Bitcoinist, Invezz, etc. She loves gardening, traveling, and extracting joy and happiness from the little things in life.