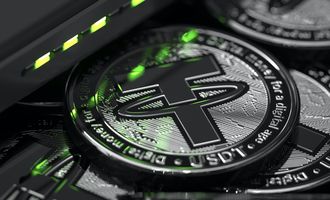 Bybit enables P2P transactions to trade USDT

Daniela Kirova
Last updated 12th Apr 2022
Bybit has enabled peer-to-peer (P2P) transactions to help easier on- and off-ramp access, they reported today. The cryptocurrency exchange, which is one of the fastest growing in the world, has taken trading to the next level.
Starting today, January 18, Bybit users can buy and sell Tether (USDT). Transactions with other users are easy, safe, and no fees are charged on the Bybit website. Bybit will launch an app version soon.
Wide variety of payment methods
Bybit's peer to peer platform offers almost 100 different payment methods, including nine options to pay in fiat, which include the Hong Kong, Australian, and New Taiwan dollars, Philippine peso, Russian ruble, Indian rupee, Malaysian ringgit, the Vietnamese dong, and the Ukrainian hryvnia with more to follow.
What to expect from P2P transactions
The crypto exchange's P2P transactions are one of the best ways to trade cryptocurrency while improving user control over crypto to fiat and fiat to crypto exchange. All of this takes place in a completely safe and secure environment.
Both sides provide transaction confirmation
Confirmation from both sides is required to ensure safety. As soon as the buyer completes their order, the seller's assets are held in a temporary deposit. Both sides must confirm the success of the transaction.
Whitelisted users will have the option to tailor their offers according to their payment method of choice, local currency, and preferred price. This will be possible through an ad posting feature.
Ben Zhou, CEO and cofounder of the exchange, commented:
We at Bybit are excited to introduce P2P to address niche pain points in financial inclusion. For the underbanked and retail investors everywhere, this fiat currency payment solution provides them with seamless access to invest in cryptocurrencies, freeing investors from the burdens of non-transparent fees, layers of intermediaries, delays and high barriers to entry. Bybit is in the business of financial innovation and creating new gateways to financial freedom.
About Bybit
Bybit is a cryptocurrency exchange established in March 2018. It features a professional platform, where crypto traders can avail of top notch customer service, an ultra-fast matching engine, and multilingual community support.
The company provides API support and innovative online spot and derivatives trading services as well as mining and staking products to retail and institutional clients across the globe.
Bybit makes every effort to be the most reliable exchange for the emerging digital asset class.
Daniela Kirova
Daniela is a writer at Bankless Times, covering the latest news on the cryptocurrency market and blockchain industry. She has over 15 years of experience as a writer, having ghostwritten for several online publications in the financial sector.