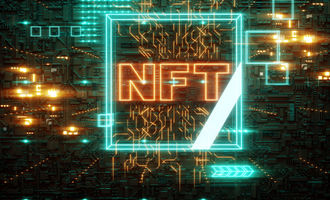 IreneDAO NFTs become a sensation just a week after launch

Jinia Shawdagor
Last updated 12th Apr 2022
Yuqing Irene Zhao, a 28-year-old Chinese crypto influencer and model, has seen immense success after launching her first NFT project. A report unveiled this news noting that Irene, who founded Social Collectibles (So-Col) alongside her partner Benjamin Tang, dropped the NFT project based on a sticker pack for her Telegram community to use on the messaging app.
According to the report, the sticker pack featured superimposed photos of Irene with meme slang text used by members of the crypto community like gm, wen Binance, and yes ser. Notably, Irene had not considered converting the stickers into NFTs. However, the sticker pack caught on quickly, reaching 2,000 installations in just four days.
A fan dubbed libevm contacted her, suggesting that she consider turning the sticker pack into NFTs. Allegedly, libevm got this idea from Sultan Gustaf Al Ghozali, a 22-year-old Indonesian, that made over $1 million after selling his selfies as NFTs.
Irene agreed with libevm and tokenized the stickers into 1,106 NFTs on OpenSea by Friday last week. This move led to the rise of IreneDAO, with the NFTs being access passes to the DAO's Genesis Tribe.
The NFTs were initially distributed as a free mint, and they are currently trading at a floor price of 1.47 Ether (ETH), or approximately $4,668. At the time of writing, the collection has recorded a trading volume of 2,100 ETH (around $6.6 million).
1
Minimum Deposit
$200
Exclusive Promotion
More than 3,000 assets, including currencies, stocks, cryptocurrencies, ETFs, indices and commodities
Buy crypto, or trade cryptocurrencies via CFDs
This ad promotes virtual cryptocurrency investing within the EU (by eToro Europe Ltd. and eToro UK Ltd.) & USA (by eToro USA LLC); which is highly volatile, unregulated in most EU countries, no EU protections & not supervised by the EU regulatory framework. Investments are subject to market risk, including the loss of principal.
Leveraging the So-Col platform
Sharing details about the transformation of the sticker pack into NFTs, Irene said,
"We at So-Col thought it was a great idea as we wanted to create a prototype for our core concept of a community-driven creator economy. We then extended the idea into a DAO, and libevm and my co-founder Ben hacked it together within a day."
She revealed that the So-Col platform aims to help content creators monetize their content and build communities with their fans by converting their content into NFTs. The platform runs on StackWare's layer-two solution StarkEX and leverages the decentralized ID protocol.
Elated about the success of what started as a test, Irene said,
What we didn't expect was that our test case was an instant hit. In fact, I was not even aware when it was launched – I was out for a swimming lesson! By the time I came back from the pool after 40 minutes, the entire 500 NFTs were gone. I didn't even have one to myself!
Notably, the collection attracted renowned people in the crypto industry, including Galaxy Digital CEO Mike Novogratz and YouTuber Logan Paul, with Paul's OpenSea wallet indicating that he purchased 20 of the NFTs for 85.9 ETH (approximately $270,000).
Experimenting on integrating web3 into the creator economy
While the project was a success, neither Irene nor libevm have taken any proceeds from the NFT sales. Instead, the funds will go to IreneDAO to fund experiments on integrating web3 into the creator economy. According to libevm, IreneDAO members on Discord are discussing how to make the DAO more inclusive, adding that they would use the NFTs to dictate how the DAO uses the obtained funds.
As part of increasing inclusivity, the DAO has suggested that Irene and Ghozali partner, pushing Irene to extend an invitation to the 22-year-old computer science student.
Jinia Shawdagor
Jinia is a fintech writer based in Sweden. With years of experience, she has written about cryptocurrency and blockchain for renowned publications such as Cointelegraph, Bitcoinist, Invezz, etc. She loves gardening, traveling, and extracting joy and happiness from the little things in life.